Playful city discovery adventures of our first travelling content creator Filipa continue in Delft.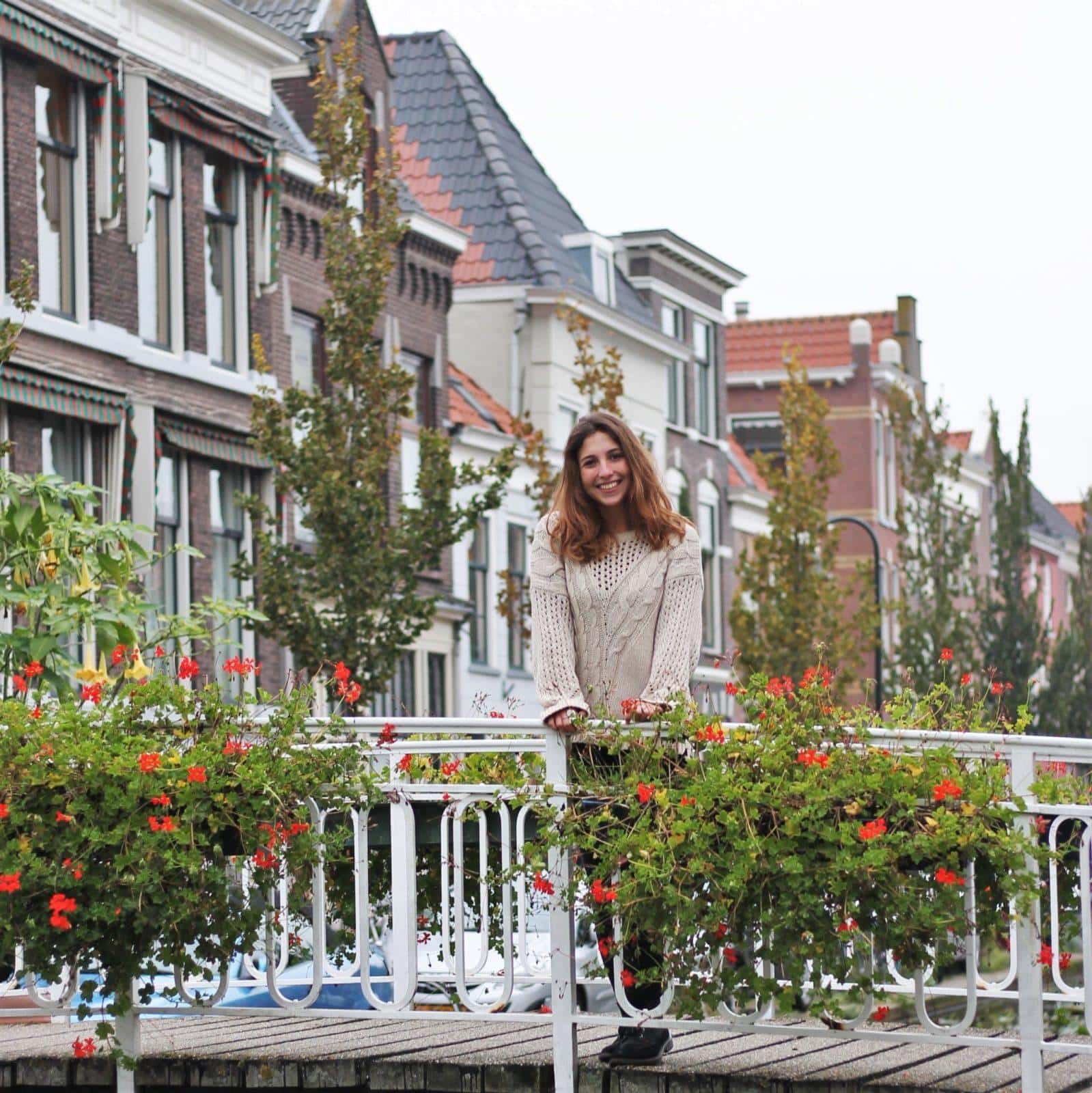 Delft was with no doubt one of my favourite Dutch cities to explore. Its contrast between the old and the new, and the blue tiles around the city, reminded me about the city I was born in – Lisbon. Busy student life brings a vibrant atmosphere into the town's charming medieval streets. Like in other Dutch cities, you'll find here beautiful canals, a picturesque main square, hidden gardens and tons of irresistible coffee shops. An important part of the cityscape is the old church with its big tower, located on the way from the train station to The Markt. Delft may not be the first city you think about visiting when exploring The Netherlands, but I'd surely recommend it for a brilliant of-the-beaten-track experience! If you're staying in Rotterdam, Delft is easy to reach by train and it's perfect for a day trip – you can easily explore the city on foot. I went there to play the Secret City Trails game exploring Delft's secret alleys and blue ceramics, and as I was following a trail of riddles, I discovered local curious places and historical sights.
As always, I try to avoid visiting the places that are fairly known while exploring Delft, so keep reading if you're interested in getting to know its hidden gems.
Our favourite non-touristy things to see and do in Delft: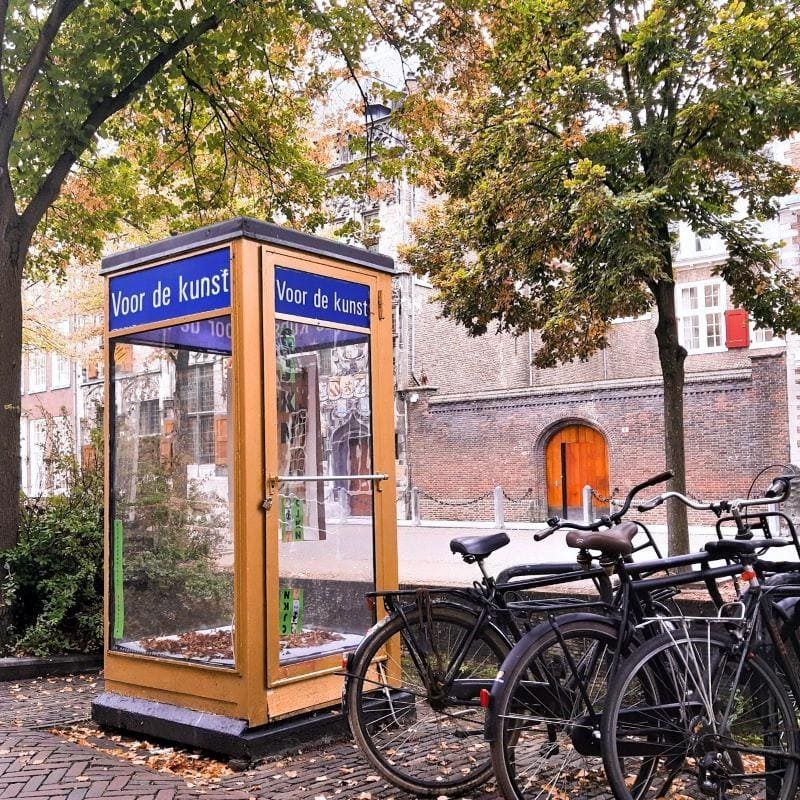 Discover a museum in a phone booth
Voor de kunst is The Netherlands' smallest museum! Finding it was one of the delights of my visit to Delft. This old-fashioned phone box used to contain something from a different artist every month but now is less regular. It may be an unusual way to exhibit art, but also very practical, at least for Tijn Noordenbos, its owner and creator. Noordenbos also owns a really cool café and shop in the city, called Uit de Kunst, worth checking out.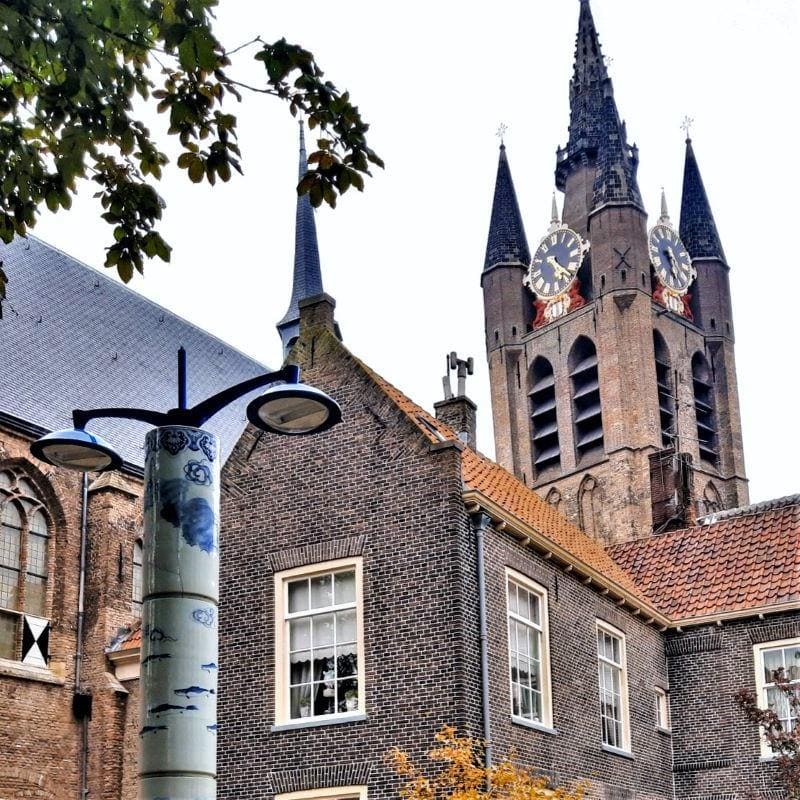 "Read" stories in the blue tiled street lights
Delft Blue has been made in Delft since the end of the 16th century and can be found all around the city as part of its street art. You would find entire lamp posts that are encased in blue and white porcelain (each cylindrical segment had different images). Delftware includes a variety of pottery objects (such as plates and vases), other ornamental objects and, of course, tiles.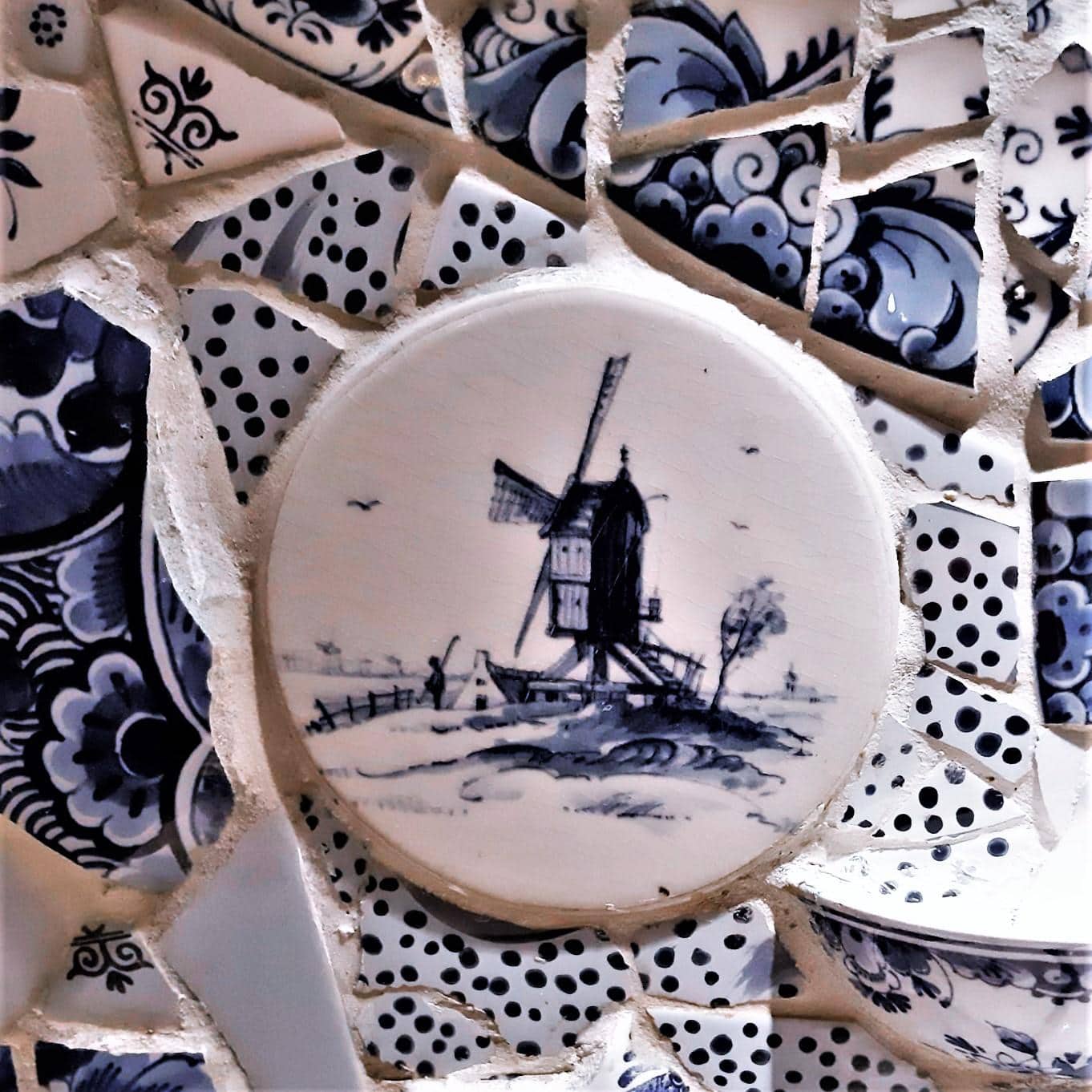 Have a coffee surrounded by Delft paintings and blue tiles
Stads-Koffyhuis is a really typical Dutch charming and beautifully adorned place (make sure to see the blue tiles in the bathroom). I totally recommend it to have a coffee (and one of their delicious award-winning sandwich rolls) looking over the oldest and one of the most beautiful canals in Delft, and its old church too.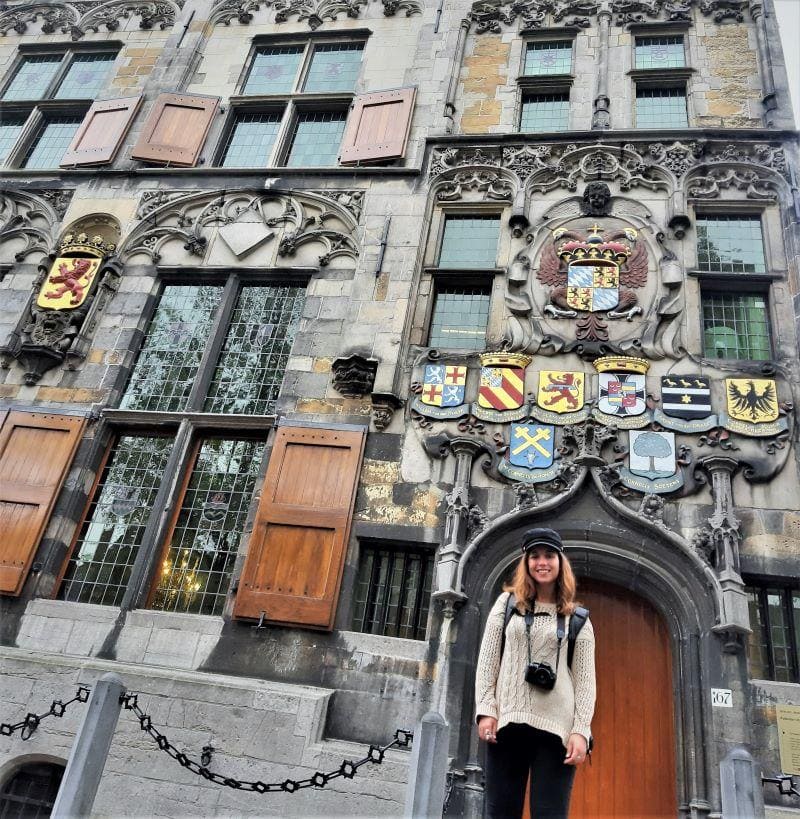 Find some "gothic extravagance" on the university campus
The Huyterhuis is a beautiful building with a colourful façade, that dates back to 1505. It's said that the original building behind it once belonged to a castle-like building dating back to the 13th century (excavations during its renovations in 1988 have even uncovered the foundations of a medieval tower). Today it is the Gemeenland House of the Delfland Water Board.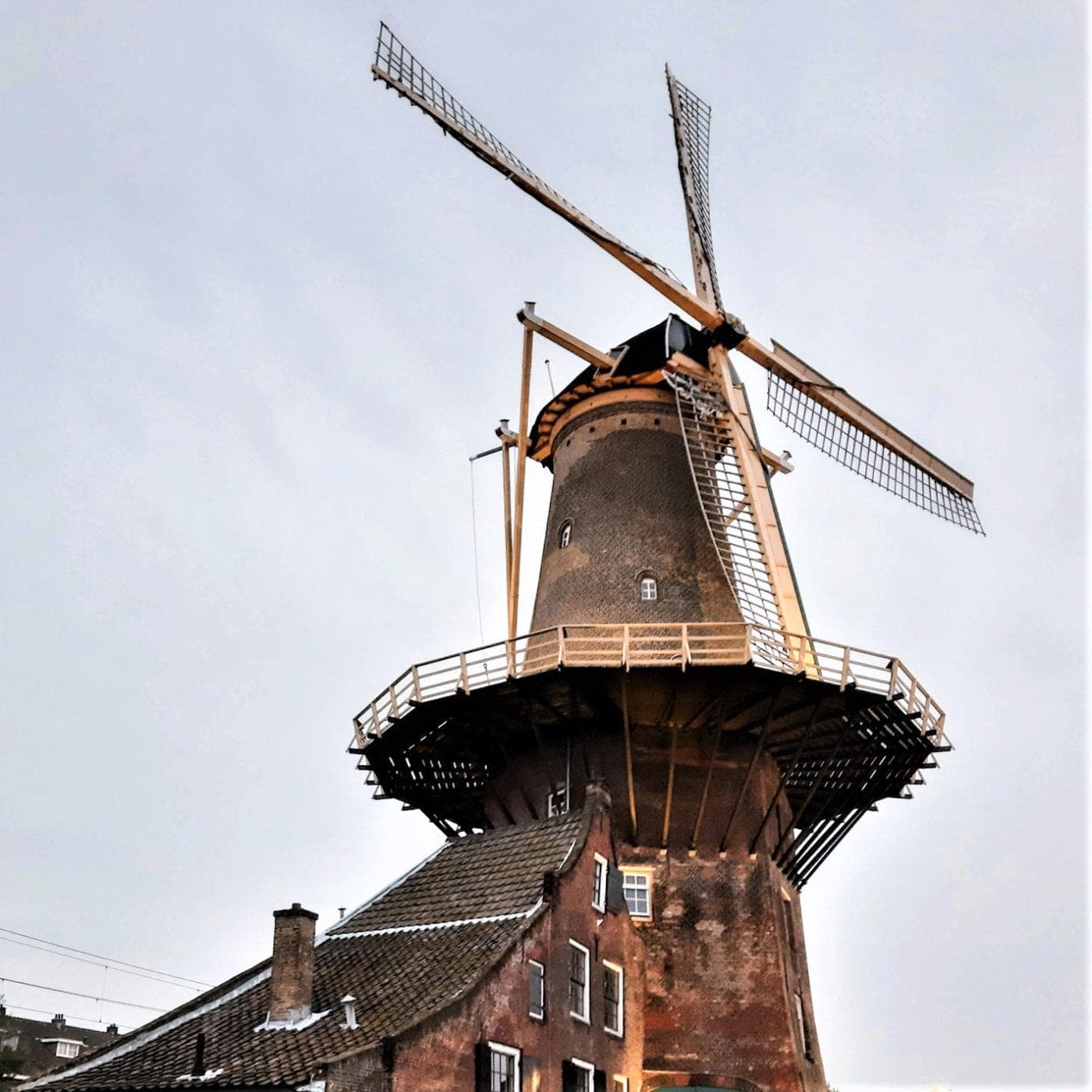 Buy flowers in the only remaining windmill in Delft
Windmill De Rose (often called De Roos) is the only remaining windmill in Delft. It dates to 1679 but was restored recently. Now it has a shop that sells flowers and grains. Head there to get an inside look into the iconic windmills!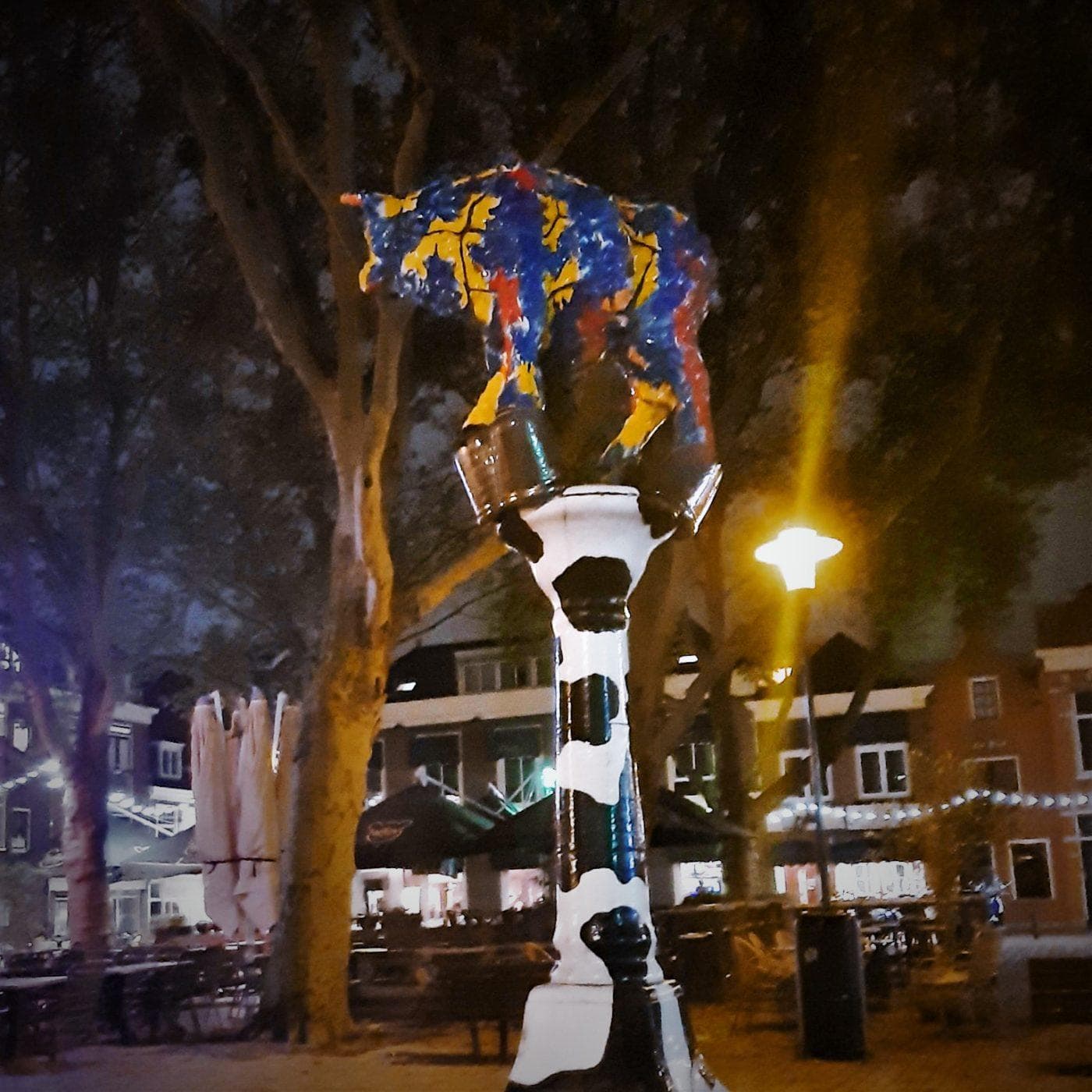 Sit under a "flying cow" in Beestenmarkt
Yes, a flying cow. Around Beestenmarkt you can enjoy a scenic ambiance and tons of restaurants and bars… and also a Giant quirky colourful cow statue. I really recommend visiting this really nice square and sitting under the trees to have a beer, if you have time, or just end the night in one of the small cosy pubs.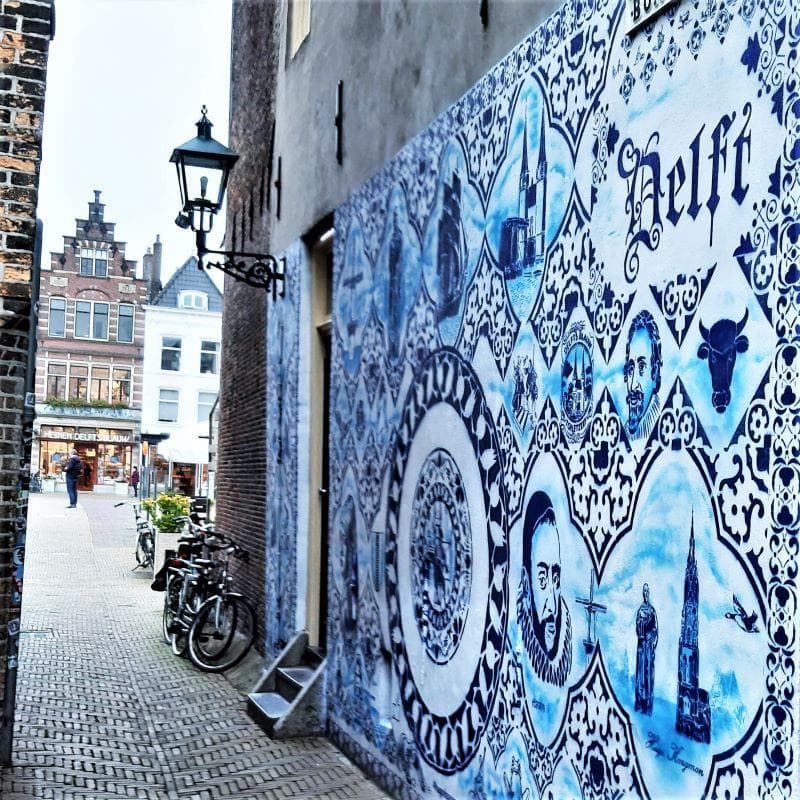 Find a bit of Delft's story on a blue mural
You already know that Delft is famous for its blue and white tiles. This mural takes it to a whole new level, telling the story of Delft's most famous historical marks.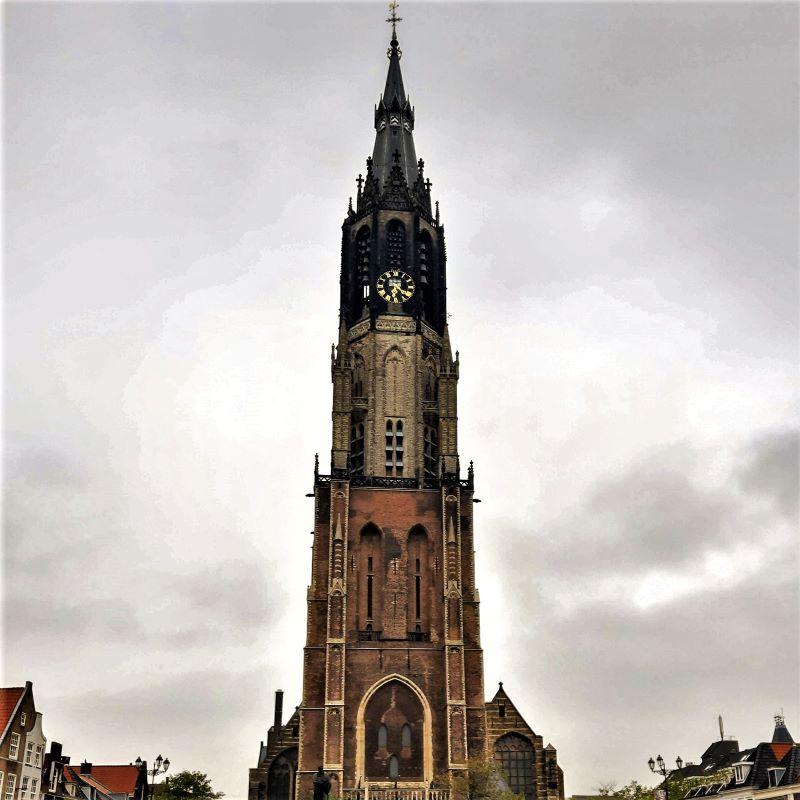 Spot the giant compass on the New Church square
The Nieuwe Kerk (Delft's New Church, not so new as the name may suggest, since its construction was completed in 1496) is an interesting point itself as its situated in the beautiful Market Square and the tombs of the Princes of Orange and the Dutch royal family are located beneath it. In front of it, somewhere in the middle of the Markt Square you would find a giant compass on the floor, but I wouldn't have noticed if I wasn't playing the game!
Ready for an adventure in Delft?