How it works
Solve a trail of riddles, discover hidden gems, get to know each other better while playing – and be in the moment.
Book your game
Get ready to play
4 easy steps
Book your game
Book your urban adventure online & receive an email with a unique link to play (check your spams or promotions folder!)
Ready, set...
Check the starting point of your game in the email and make your way to the spot to begin your game…
Go!
Open the email link in your smartphone's browser and tap the Play button to receive your first riddle! Let the adventure begin.
Enjoy your discoveries
Search for answers to our riddles on charming streets, hidden courtyards, beautiful alleys, unknown galleries and even lovely shops and cafes…
Who can play?
Play together, or on your own… Both locals and travellers love our games.
Gather your friends and play together. Whether it's to celebrate something or to do something different in your own, or a new, city.
Playing games with family is always fun (unless it gets too competitive!). Our city discovery games take that fun outdoors and across the best neighbourhoods.
Plato famously said that you can discover more about a person in an hour of play than a year of conversation. So on your next date, trade the bar for a city discovery game!
During the game
Nice-to-knows
Answer correctly
Answer correctly and unlock the next riddle, as well as stories and recommendations to bars, cafes, shops and more (we don't take any commission, we just love 'em).
Answer incorrectly
Answer incorrectly… We encourage trying! You may submit as many incorrect answers as you need. No penalty time for trying. Never give up.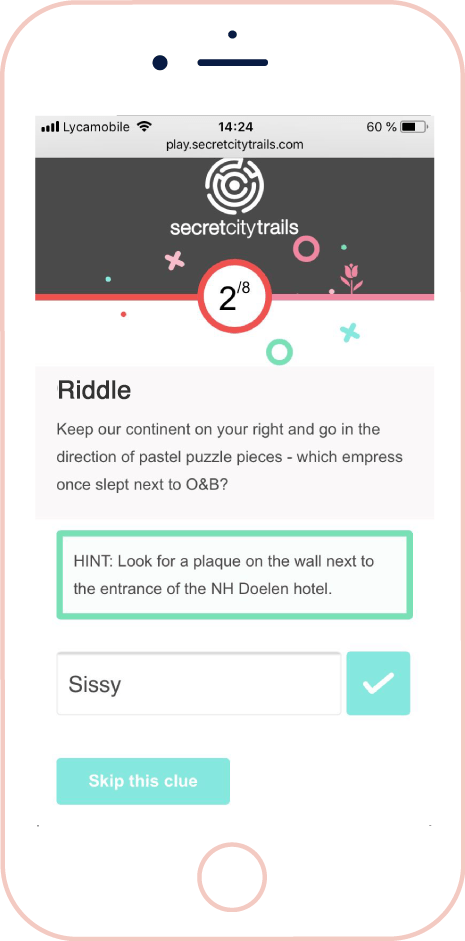 Ask for a hint
If you're stuck, ask for a hint. There's one hint for each riddle and it will get you (nearer) to the location where you can find your answer. Asking for a hint will cost you 10 minutes of 'penalty time'.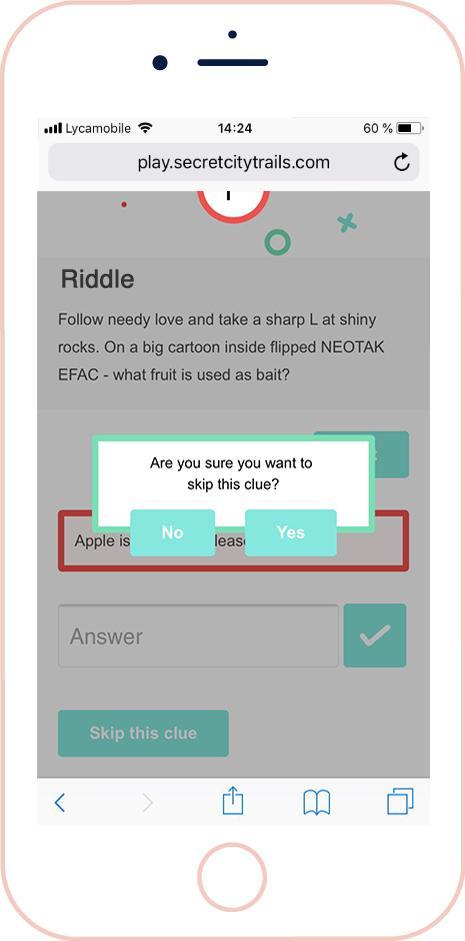 Skip if you're really stuck
If you're really stuck or lost, you can choose to skip a riddle. This will result in 20 minutes 'penalty time' – it will be added to your overall time. We do recommend always asking for a hint first, so that you're in the right location to continue playing!
Excited?
Yeah, go on and book your city discovery adventure!