Our travelling content creator Filipa reports on her off-the-beaten-path discoveries in Prague.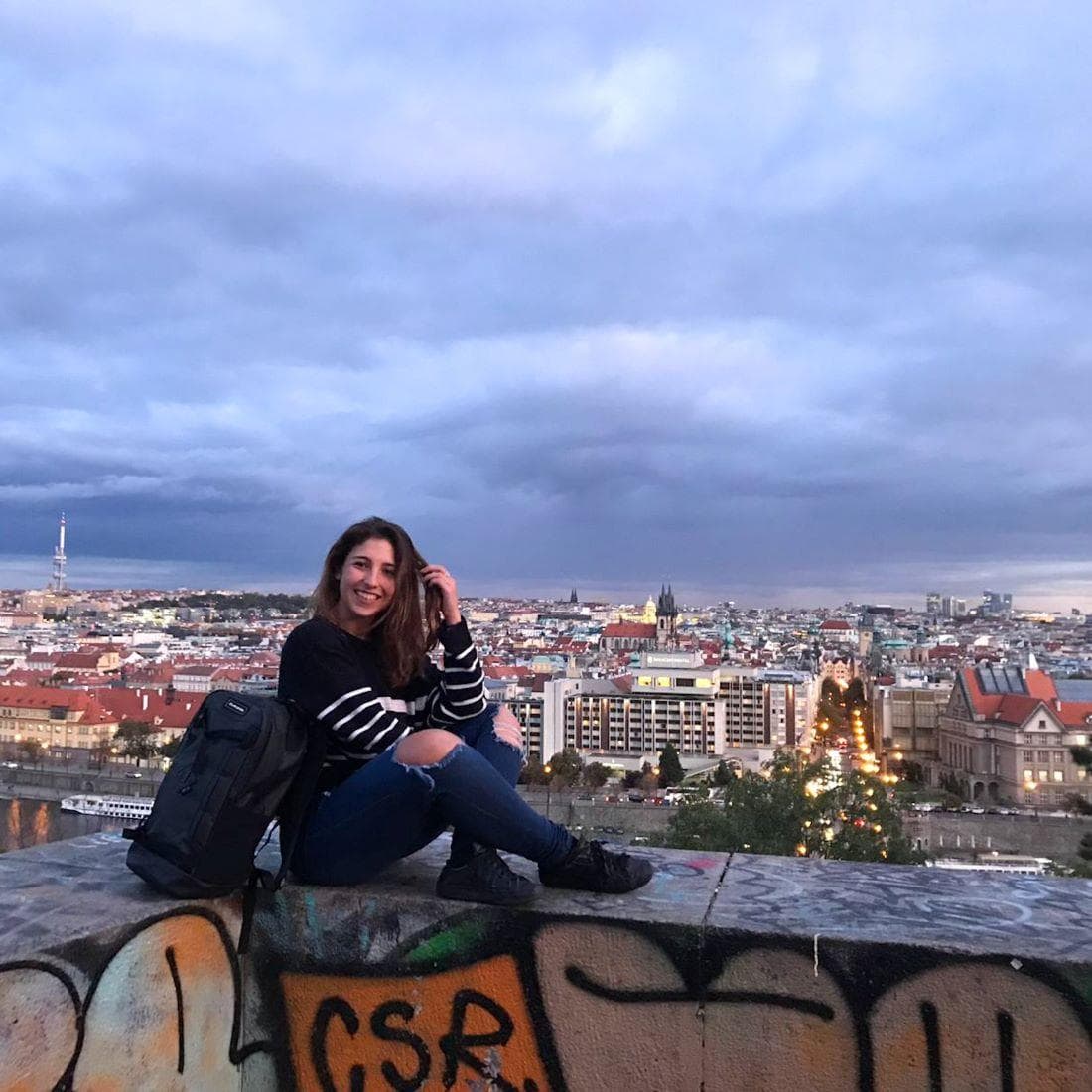 Let's talk about one of my favourite stops on my travels with Secret City Trails: I'm grateful I met some amazing people in the hostel I stayed in Prague and they turned out to be fantastic companions for exploring this amazing city. From all the cities I've been to, Prague is for sure one of those with a remarkable character. There is art everywhere you go, sometimes in the most unusual places; from quirky detailed statues and sculptures of the people who helped to shape the city, to surprising street music. Any curious sculpture enthusiast or a local legends collector, like myself, will have the best of times just walking around the city. Let me share one of things I've learnt: did you know that the local legend says that if you use a flash while taking a picture of Anna Chromy's spooky IL COMMENDATORE statue, you'll see that an image of a face appears in the photo?! I dare you to try it… Also, there's a lot of traditional beliefs related to one wall in the Wallenstein Palace Garden; I'll tell you more about it later in this post. 
Here are my top recommendations for an alternative and a little less busy discovery trail in Prague; hopefully I'll have you covered if you're looking for something different to add to your upcoming Prague itinerary, even if you visited Prague before. As always, I played city discovery games to get to know the city like a local.
Our favourite non-touristy things to see and do in Prague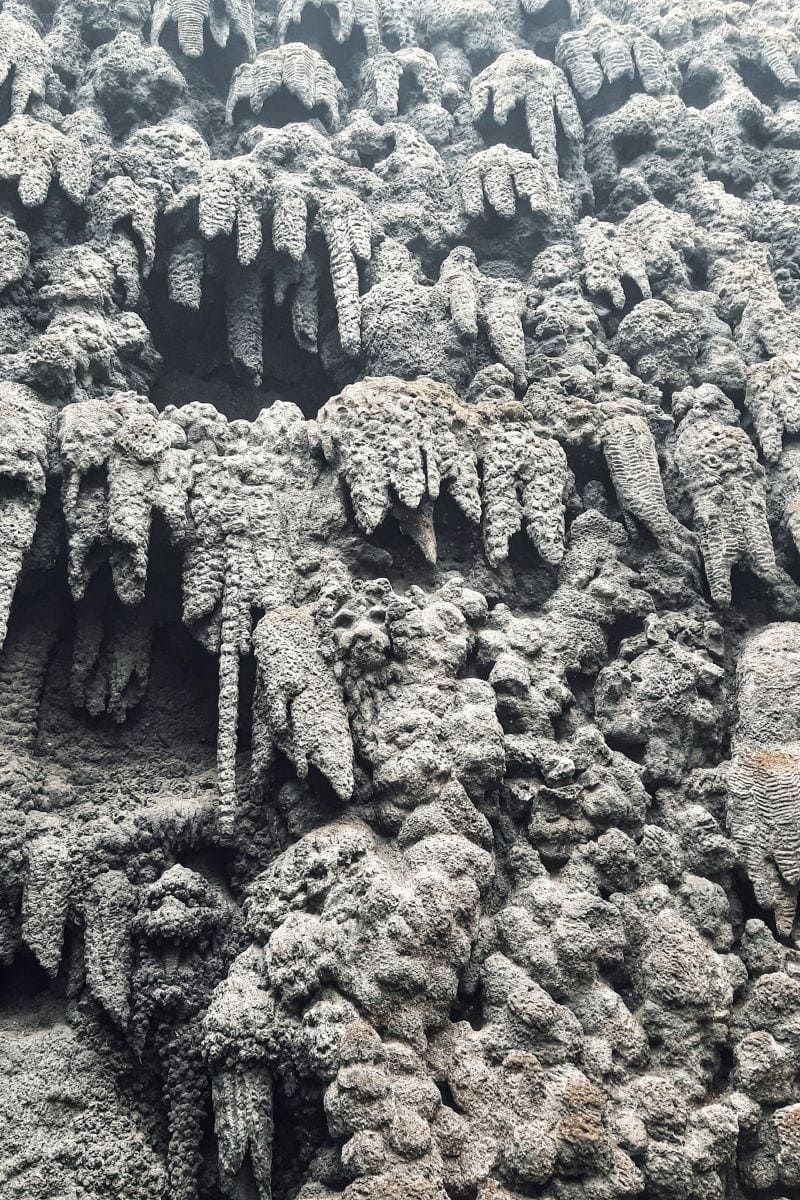 Stare at countless grotesque faces in a wall
Visit the baroque Wallenstein Palace to find the massive Dripstone Wall, known as "The Grotto", with around 500 years of existence. I've never found anything like it on any of my trips!… It's an artificial wall that in itself is a special art piece; you can find animals (I found a lion and snake!), monsters and distorted faces hidden in the wall's recesses. A legend has it that if one stares at the wall for a long time, they can find hidden passageways through the interior of the wall so I like to believe that next time I visit Prague I would be able to see it!…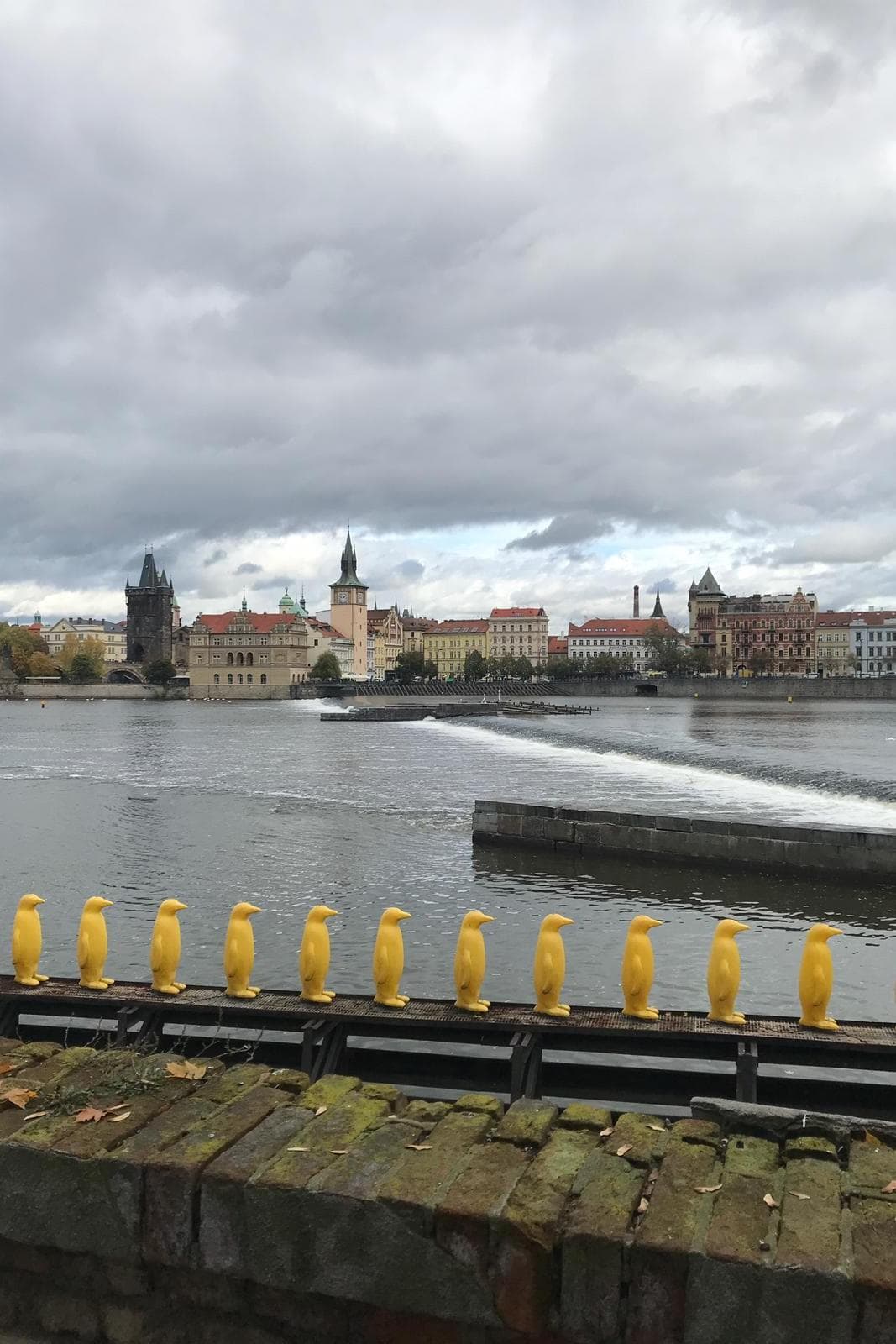 Let the yellow penguins tell you a message about the environment
You already understand that statue and sculpture hunting are a thing in Prague 😊 The Penguins standing along the shore of the Vltava River were made by The Cracking Art Group, that focuses on making colourful creations in urban areas around the city using recyclable plastic. These 34 yellow penguins made of plastic bottles aim to spread an important message about the massive use of plastic and climate change.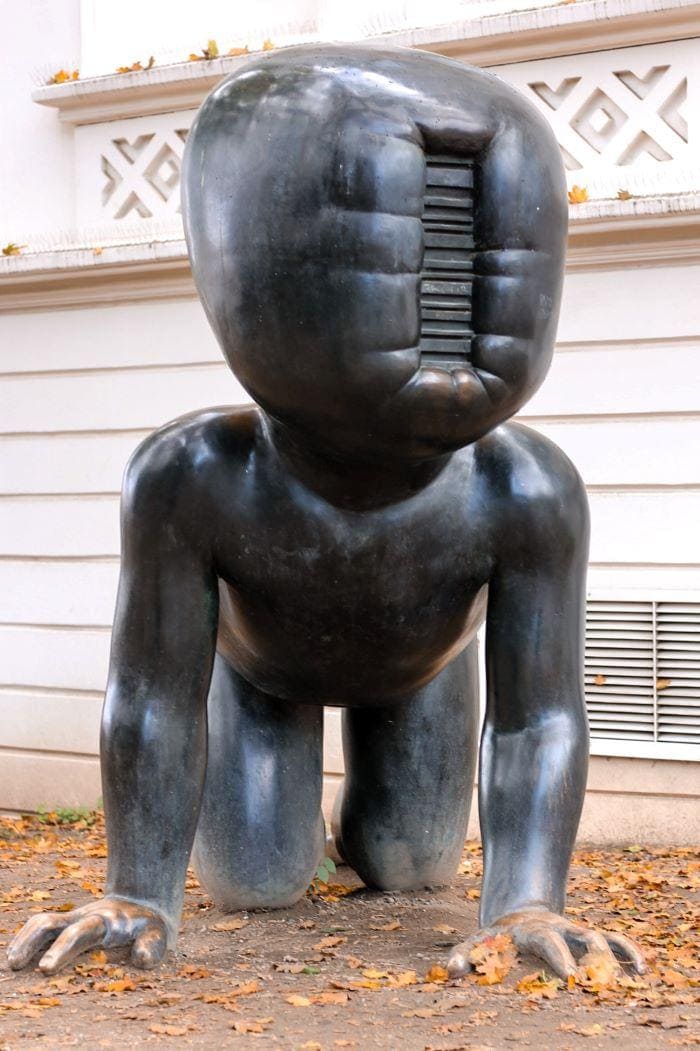 Finding giant babies in a Park
Look around the big green area next to a 658-years-old stone bridge and you'll easily spot crawling babies, no kidding! Inside the Kampa Park there are David Cerny's Giant bronze faceless babies. And yes, they are as weird as they seemed by my description, but also brilliant. Their irreverent creator, a Czech born sculptor and artist, has over ten different sculptures in and around Prague, including Metamorphosis (that I personally loved; read about it next) and the Man Hanging Out, which is a representation of the famous psychologist Sigmund Freud.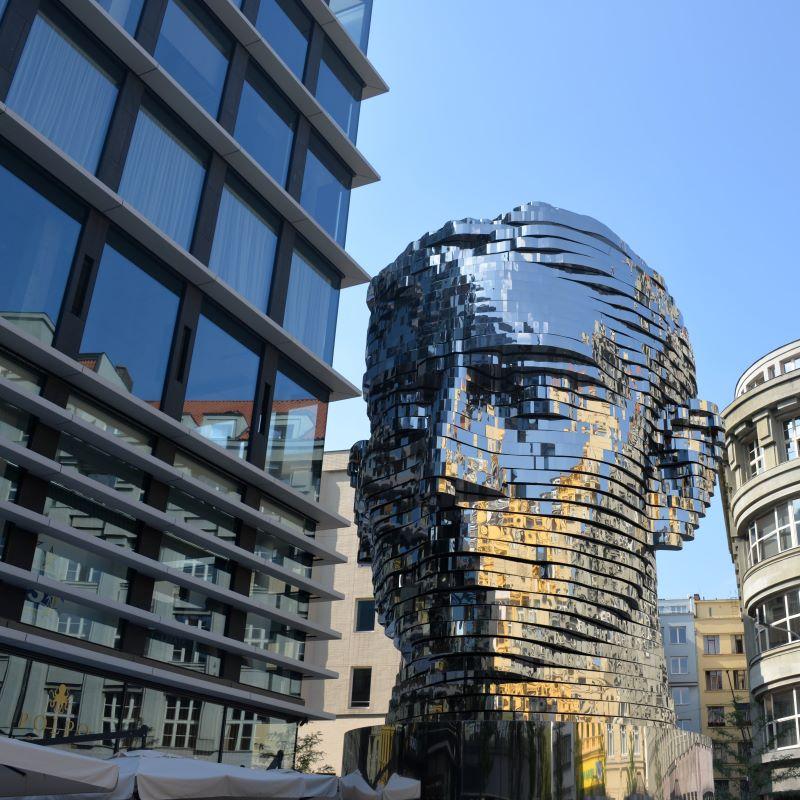 Find a moving head in the middle of the city
I've to highlight one of my favourite discoveries in Prague! David Cerny's fascinating "moving head", an artwork named Metamorphosis (or The Head of Franz Kafka), is certainly something you don't want to miss! It is made of around 40 moving layers that rotate 360 degrees and occasionally align, forming a human giant silver head! I was mesmerized by this perpetually moving showpiece.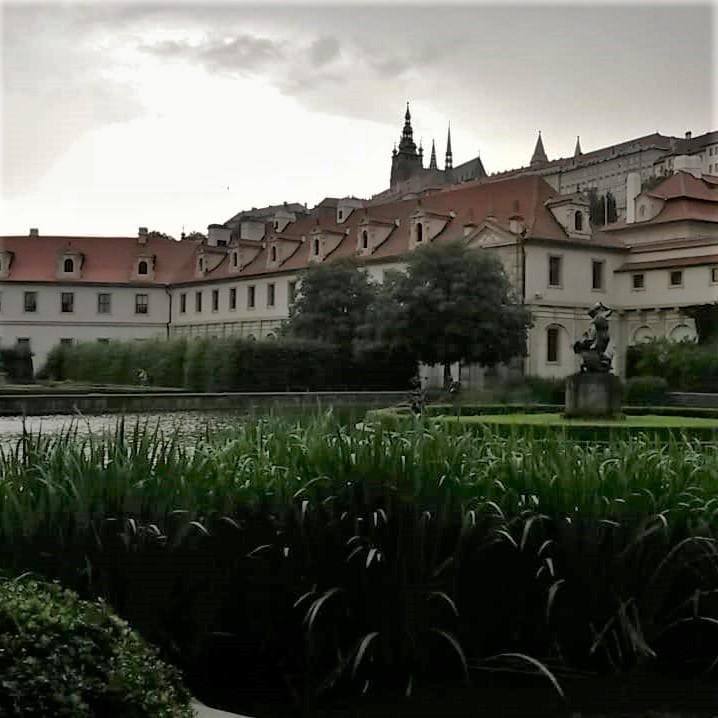 Spot owls and peacocks in a beautiful small hidden park
Wandering through Wallenstein Palace Garden was a very pleasant experience for me. This hidden park (believe me, you would easily pass it without entering its gate) is like a small oasis in the center of the city, located in a busy tram street but not overrun with tourists. You would find there a lot of Greek-style statues (representing mythological scenes), the resident peacocks, an impressive fountain, a big owl aviary, and the amazingly quirky wall I've mentioned above.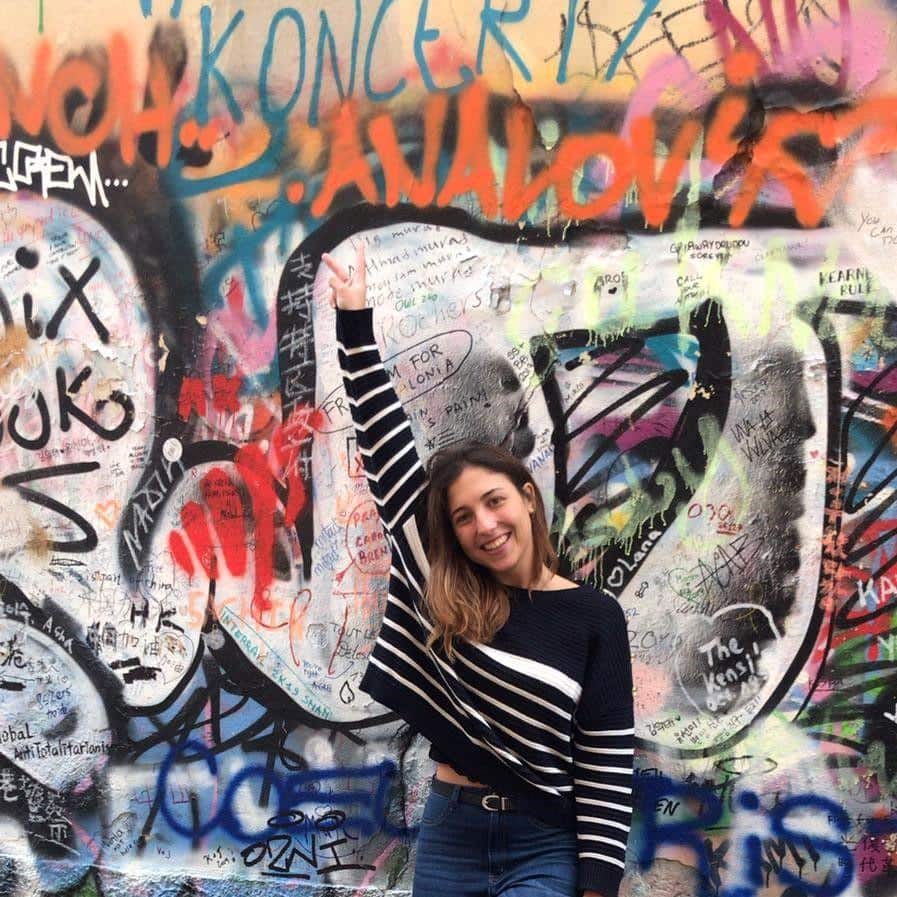 Learn about a colourful ever-changing wall
I was unsure about adding John Lennon's wall as a suggestion since it is becoming a tourist attraction, but I found its origin fascinating. It has been painted with John Lennon's image and song lyrics and became a place for local people to visually complain about their government. It remains a symbol of freedom of expression and it's always changing since locals and visitors like to leave their messages there.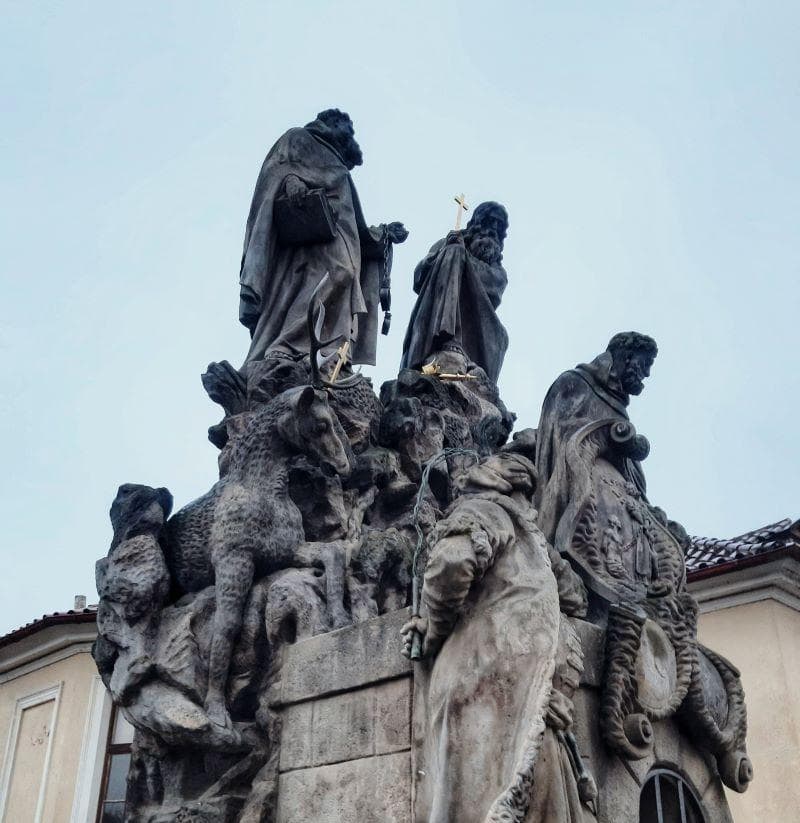 Spot the artistic details of the statues of Charles Bridge
Since this is the bridge that connects the Old Town with the Prague Castle, you are likely to take that path together with a lot of tourists. But take your time to notice all the statues along the way – something that most people don't pay enough attention to and they are missing out. Many of the statues are over 300 years old and have really unusual details to admire.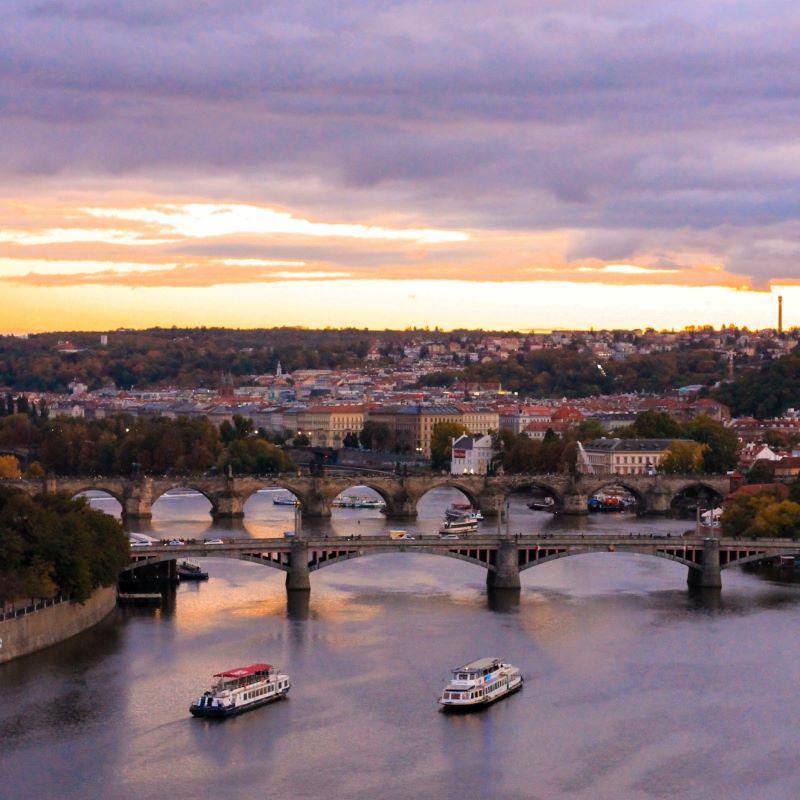 Join the locals in the city's best green spaces with river views
While playing the game I started my route in Letná Park's big green area and I found it a really relaxing place. In fact I liked it so much that I ended up returning there for the sunset. It's for sure a pleasant area to sit and relax, but also offers unparalleled views of the city, overlooking the meandering Vltava. Also, I loved seeing the squirrels!
Ready for an adventure in Prague?