Our first Secret City Trails travelling content creator, Filipa, kicked off her playful journey in Amsterdam. She shares her favourite hidden gems she discovered by playing our city discovery games off the beaten path.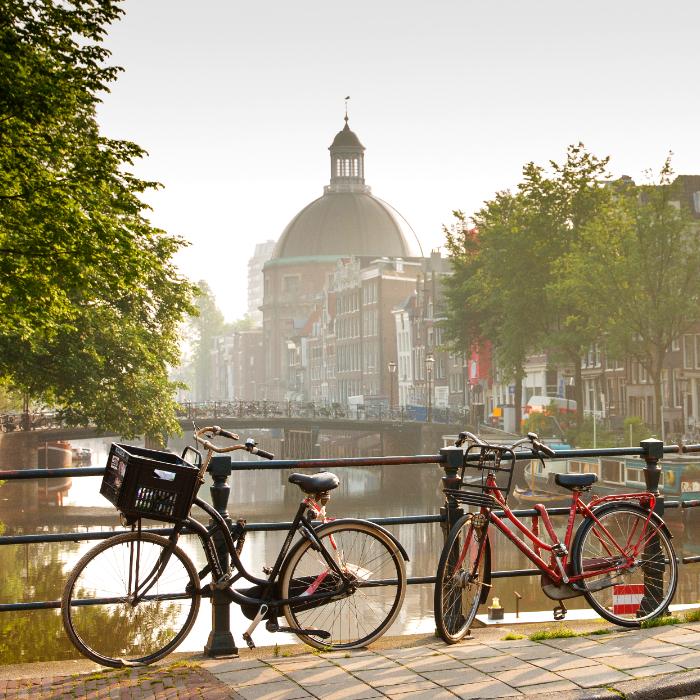 You may remember I was particularly looking forward to exploring Amsterdam, which has always been on my must-visit wishlist. For the first two days of my big international journey I could barely sleep, I was so excited! I stayed in Flying Pig's Uptown, next to Vondelpark, which has a real party vibe. From the outside it looks like a typical old Amsterdam mansion, but when you open the reception door (which is also a bar) you feel the vibrant atmosphere and hear a lot of languages right away.

The hustle and bustle of Amsterdam is apparent as soon as you arrive to the centre – not even the rain slowed down the city for a bit! Believe me, pretty soon you'll want to escape the crowds and explore off the beaten path! This is exactly what I did, but before I get into my adventures, I want to share one of my first impressions. Of course, it has to do with the city's bikes. I was astonished with the Bakfiets (a transport bike), that are a popular way of transport in the district. All around the Jordaan area I saw moms and dads with their kids speeding through the alleys at breakneck speed! So remember to keep your eyes wide open!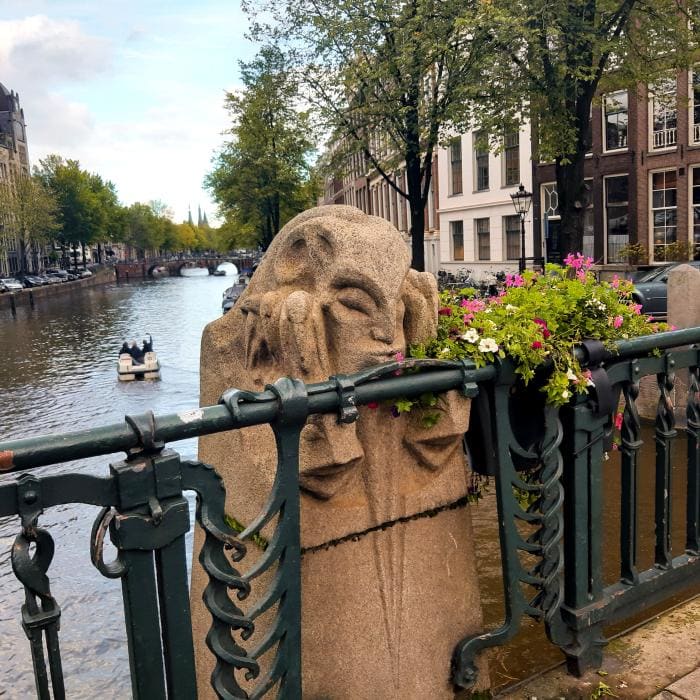 On my first day in Amsterdam, I played a Secret City Trails discovery game in Jordaan. As a solo traveller, it was super comforting to already have a plan! Jordaan has always been known as a creative neighbourhood with an intriguing history, so I noticed small unusual things since the beginning of my route, like a weird statue in the middle of a canal or an unusual boat house structure. The trail guided me along the city's beautiful canals, challenging me to really explore it – despite the rain – by solving riddles. The weather wasn't great, but the game gives you a lot of tips of local cafes and restaurants, so I already knew where to stop when I wanted to rest in a cosy place to warm myself up – or to eat a slice of pie!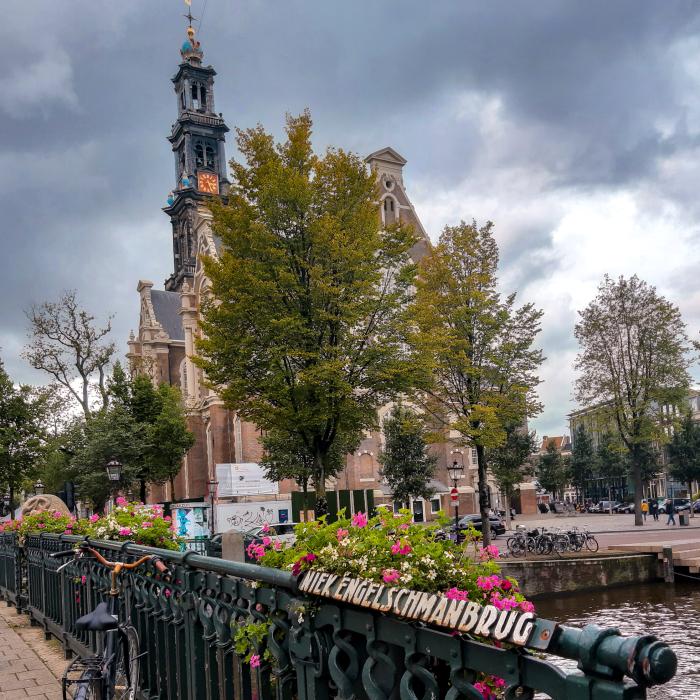 During the game you'll pass some of the most charming streets in the heart of Amsterdam, and cross some of its main canals. The latter was one of my favourites: you can find there Anne Frank's house. It's a really touristy place, but during my game I unlocked a recommendation to visit online "The Secret Annex". The house is located near the beautiful Westerkerk, which has the highest church tower in the city – a head-spinning 87 meters tall. I was really curious about it since the chimes of its clock tower are mentioned in Anne Frank's Diary. Also worth seeing is a lovely small Anne Frank's memorial statue at the foot of Westerkerk. Prinsengracht is also perfect for an evening walk. At night, the old canal houses are beautifully lit and the atmosphere is magical! Now, I'd love to share with you some of my Amsterdam favourites!
PS If you're planning to stay in Amsterdam for a longer while (or you're looking for a new place), check out HousingAnywhere for amazing flats and rooms.

Our favourite non-touristy highlights of Amsterdam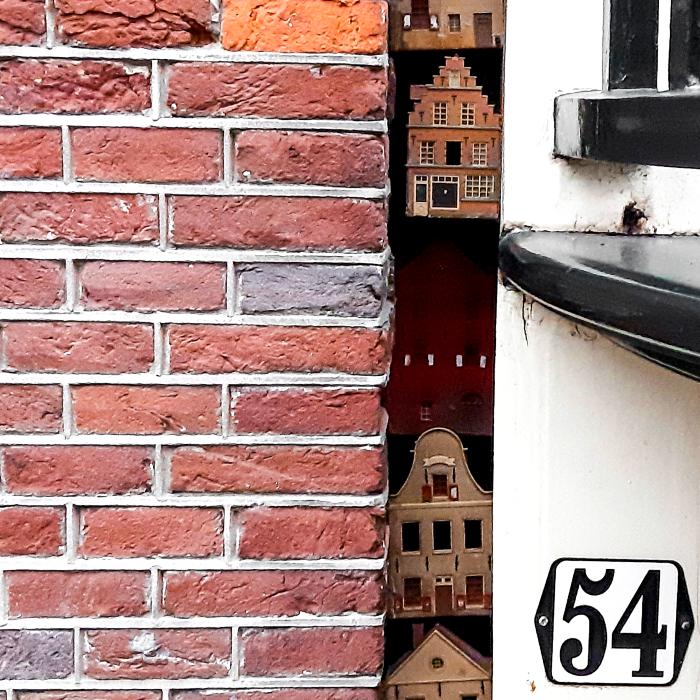 A "small world" at every corner
Try to spot little hidden details, like an old typical Dutch chocolate house or a random painting hanging on a tree. My favourite discovery in Jordaan was, no doubt, the hidden tiny replicas of typical Dutch houses! I prefer not to tell you where they are located since you would love to find them yourself when you play the game. Also, you may notice the addresses on the street jump from 70 to 54, which is unusual, right? You'll be amused with how both of those things are linked when you unlock this story!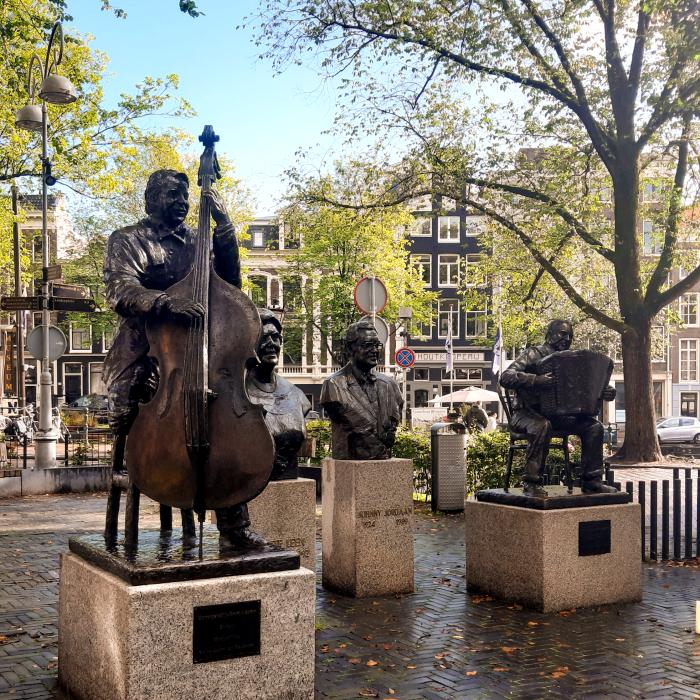 Statues that tourists don't know about
On Johnny Jordaan Plein (at the intersection of the Prinsengracht and Elandsgracht) you'll find a small collection of statues of famous 20th century Dutch musicians. I was told by the woman that works in Arnold Cornelis that these five bronze statues are representing the famous musicians Manke Neilis, Tante Leen, Johnny Jordaan, Johny Meyer, Mien and Jan Froger. There are no plaques or information about the statues near them, so it's always nice to ask locals about local stories.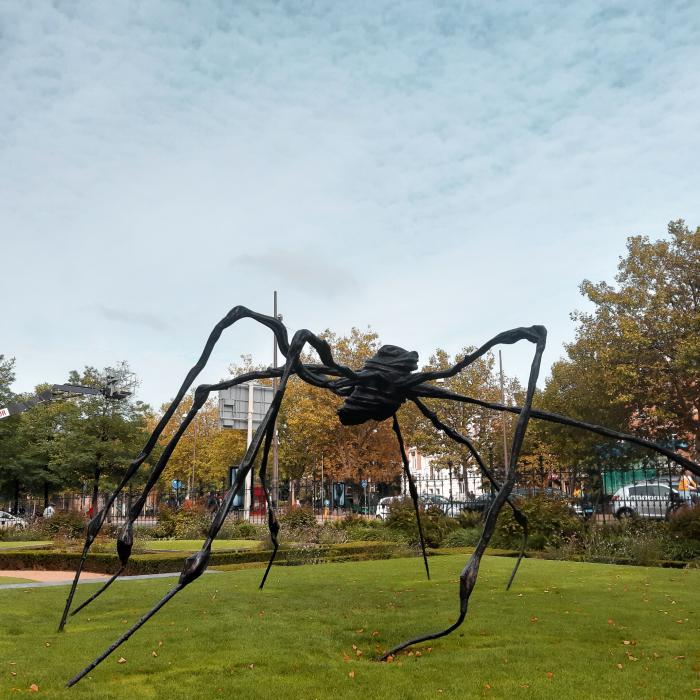 The free gardens of Rijksmuseum
Not many people know that the outdoor area of one of the most expensive museums in Amsterdam has free admission. I found Rijksmuseum garden surprisingly peaceful and loved its playful fountain, a giant chess game, and colourful flowers. At the time of my visit, there was a free temporary outdoor exhibition of Louise Burgeois' famous monumental spiders.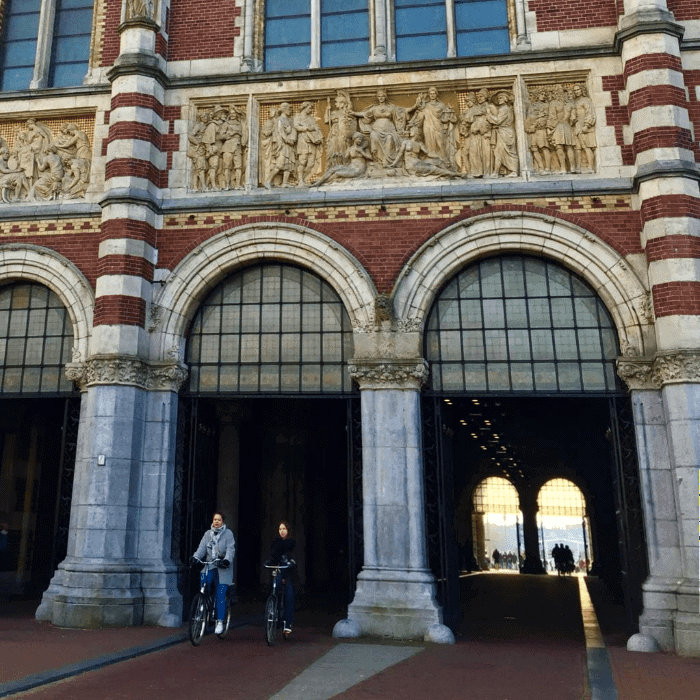 The "musical passage" in the bustling museum square
The Museum Quarter ('Museumkwartier') is definitely a place to visit in Amsterdam, even if you don't want to enter any museum. I loved its buzzy atmosphere and if you are lucky enough, you'll see some street musicians playing along the museumplein (museum square). I found some incredible performers bringing music to the streets of Amsterdam all over the town, but the concert I saw in museumplein was something special.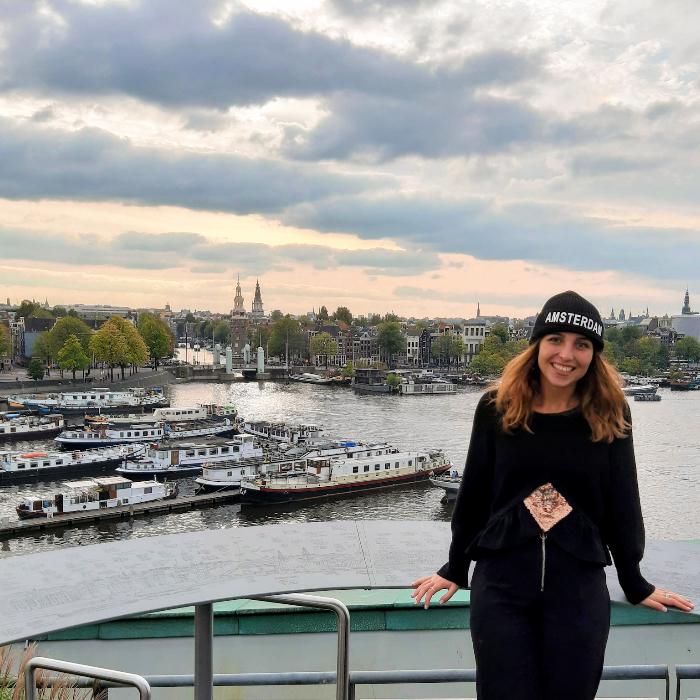 The golden Amsterdam view from NEMO
I can't stop telling everyone about the NEMO Science Museum's sunny terrace! You can reach the museum's last floor easily (you would recognise it by its particular windows) and you will find the perfect spot to enjoy the breathtaking landscape view of Amsterdam from above. I was there for the sunset and it was totally worth it.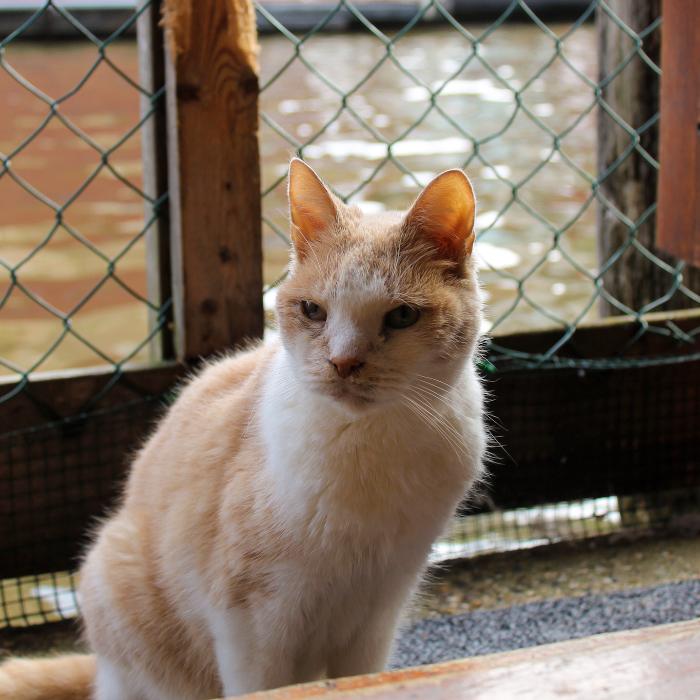 De Poezenboot (Cat's Boat)
If you're a cat owner (or an animal lover in general) you would love to see how Amsterdamers treat cats. There are many kitty-centric attractions in the city, from a touristy cat café to a lesser-known museum dedicated to cat-related artworks. De Poezenboot is the world's first and only floating cat shelter. You can book your visit for free and cuddle cats during your visit (if they're in the mood). I really enjoy taking photos of the cat-residents!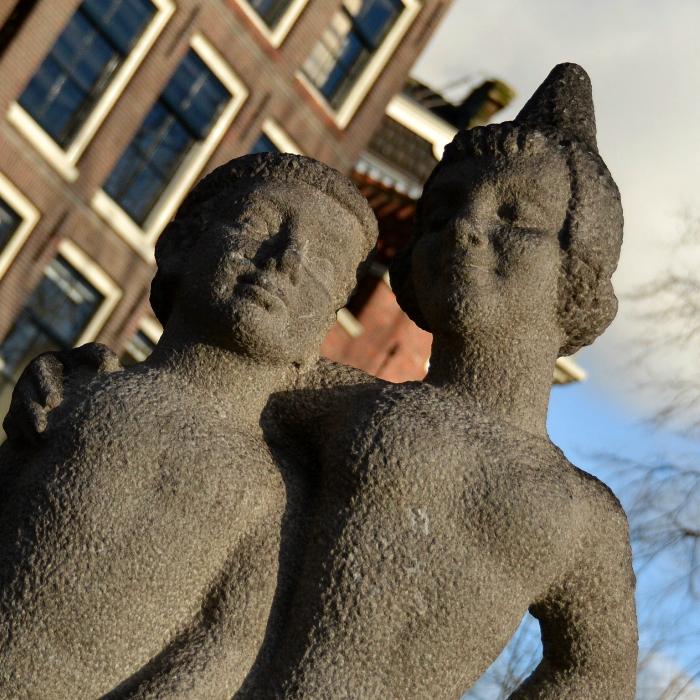 Treasure hunt on the street markets
I challenge you to do it! I passed at least two colourful street markets during my short stay in Amsterdam: Lindengrachtmarkt and Noordermarkt, which sell a lot of different things, from food to second-hand CDs, books and accessories. I found really funny to start counting how many unusual things I could find there. Some old books with the appointments of their first owners, for example, are small gems. And… of course there was time to check-out cool statues as well!

 
An extra serving of local recommendations!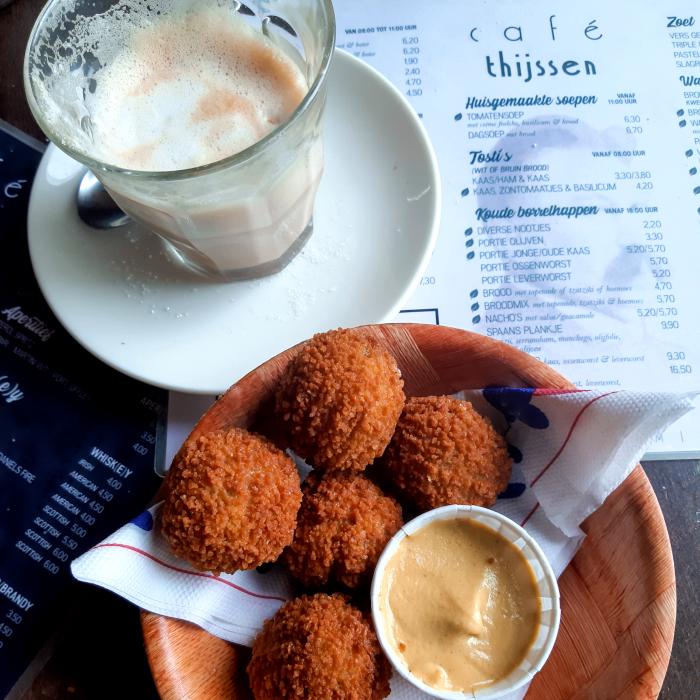 Cafe Thijssen
Perfect for a playful coffee break with friends, since it has a lot of board games for you to play. There I tried my first bitterballen (a Dutch meat-based typical snack) and it was delicious.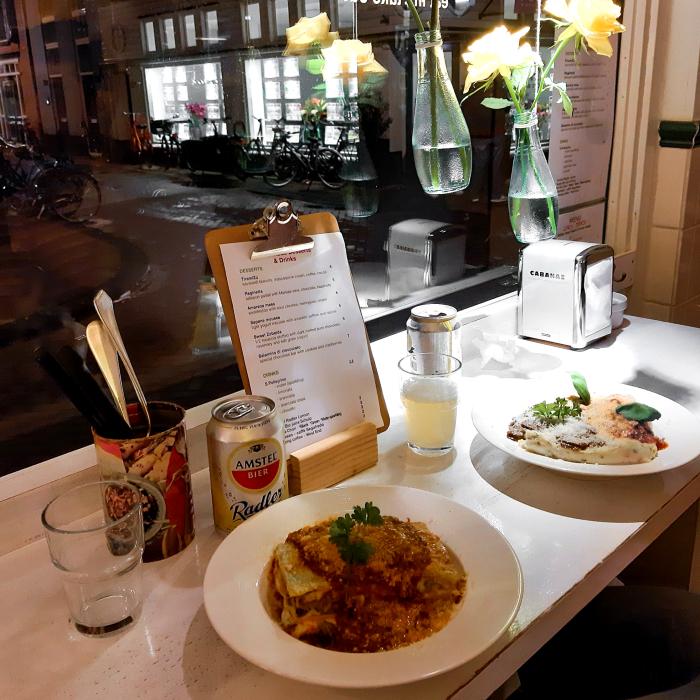 Lazagne Amsterdam
I loved both the food and the restaurant's charismatic owners. Their original recipe of lasagne is peculiar (and super tasty!) – the "Lasagne Matilde" recipe has green tagliatelle! It is already my favourite place in town for having Italian food.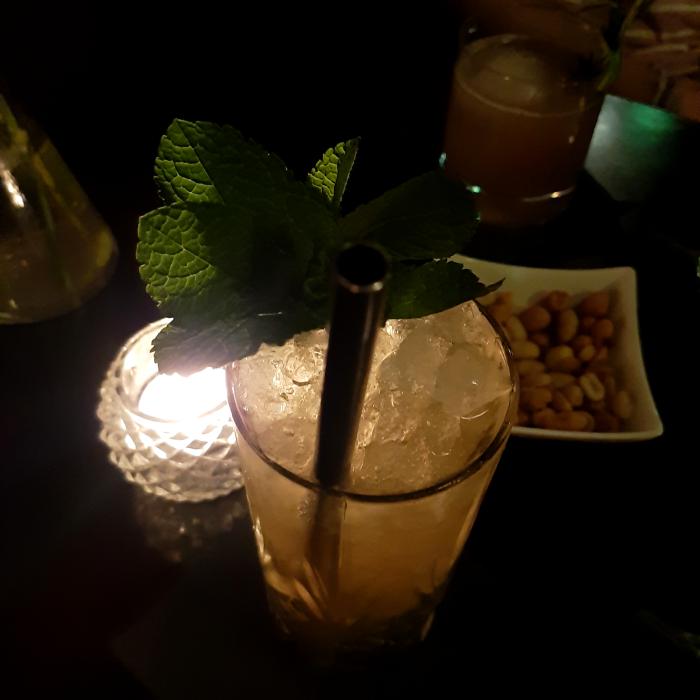 Bar Oldenhof
You would love its mysterious atmosphere. You even have to ring to enter this hidden cocktail bar! The ambience and the people there make for a great time out for a drink, either in a joyful night or in a thoughtful evening.

 
Ready for an adventure in Amsterdam?