Lisbon is not called an outdoor art gallery for no reason. Besides diverse and historical architecture, you can find a countless amount of extraordinary street art. Here's our selection of 10 beautiful pieces around the city. You can discover more by playing one of our

Lisbon discovery games

.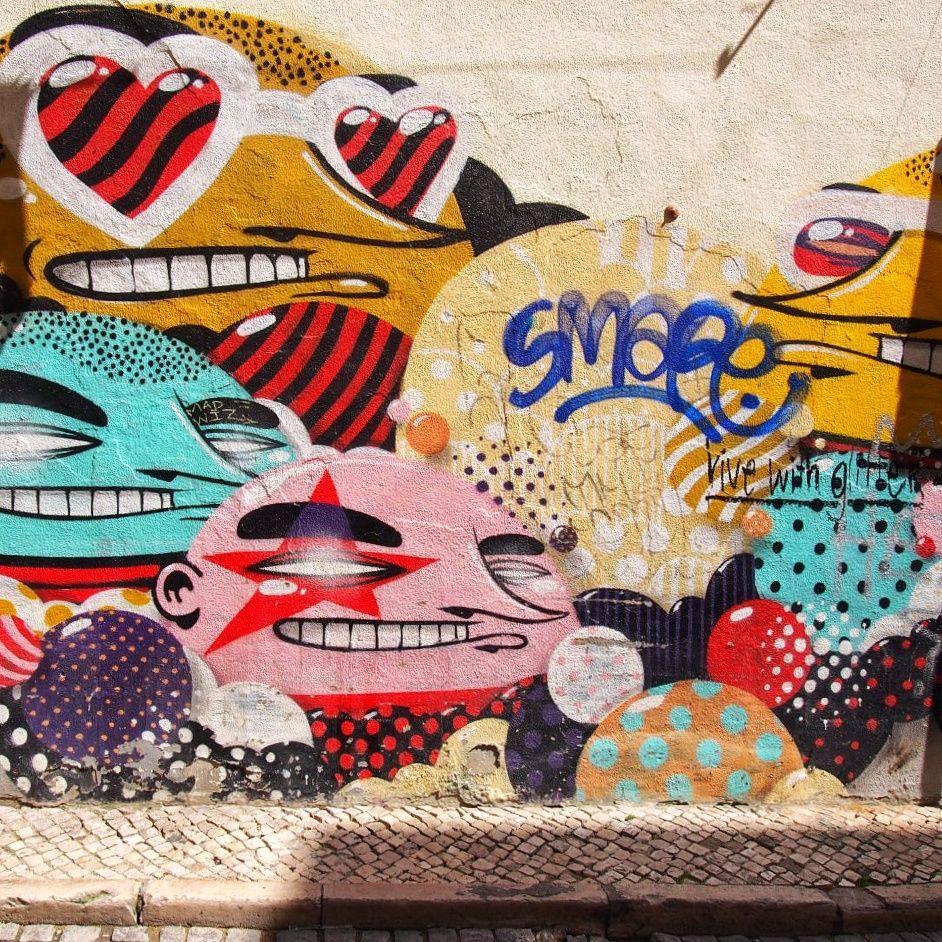 1. Sumo Doubledevil
This piece is located on the wall of Travessa dos Fiéis de Deuswas and was painted by Sumo Doubledevil in December 2014, on the same day of the opening of his solo exhibition at the Montana Gallery. He was accompanied by DJ Glue and Mister when the police patrol came and stopped him. Luckily, people from the neighbourhood stood up for him and the police decided to turn a blind eye, instead insisting that leave right away. When the police car drove off the locals decided to keep an eye on the police patrol so he had a chance to finish the piece. Go on our adventure in Lisbon's Historic Neighbourhoods or play a shorter city discovery game in Bairro Alto & Principe Real.
Neighbourhood: Bairro Alto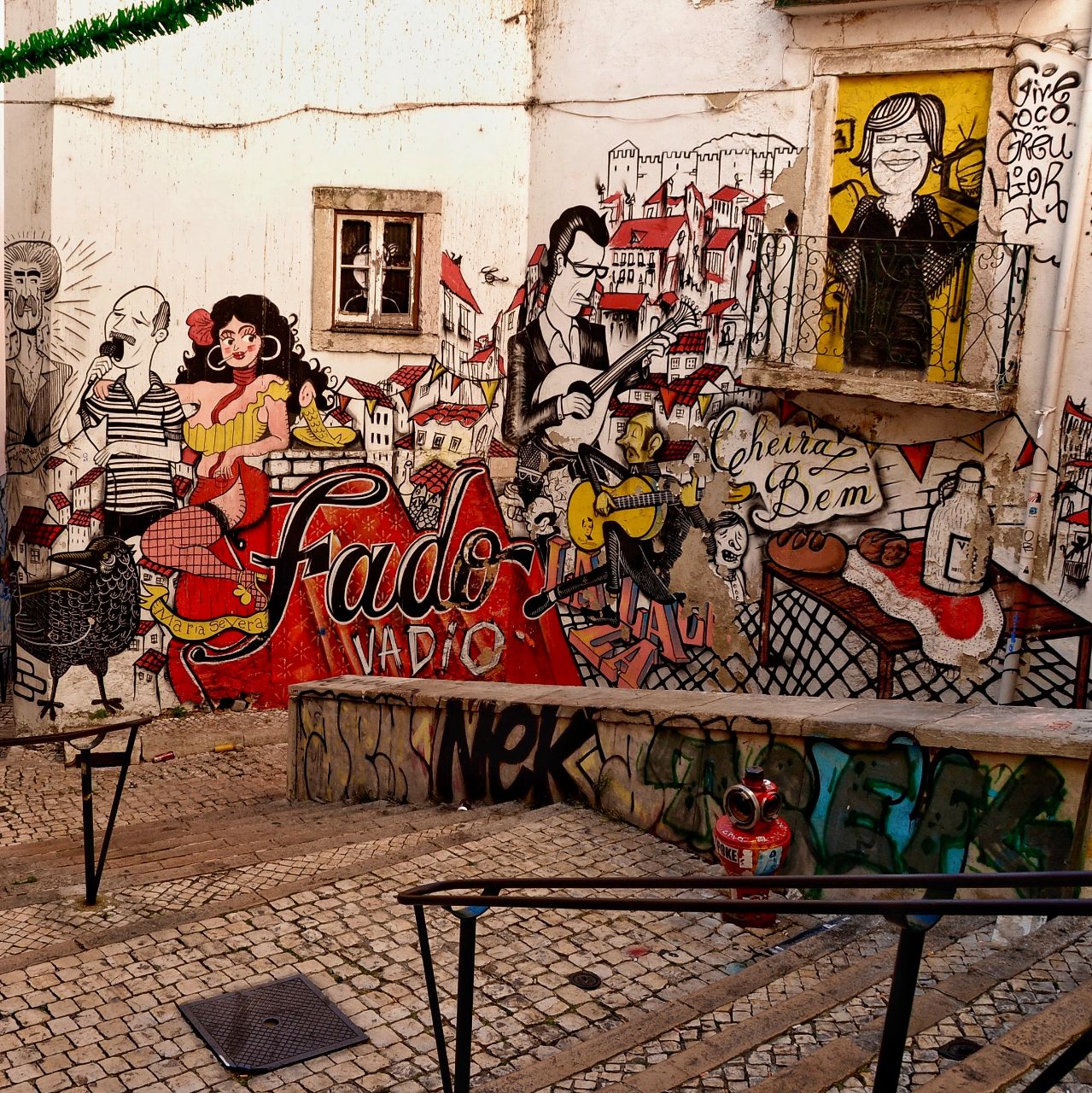 2. Fado Vadio
Fado Vadio is the most famous Fado graffiti in Lisbon and it's located in the Escadinhas de São Cristóvão. Movimento dos Amigos de São Cristóvão is a project of a small group of people living in the neighbourhood that united their forces to improve and make the neighbourhood more beautiful with some talented artists. It's said that the building where Fado Vadio graffiti is located belongs to a public company that allowed this project to happen because of they didn't have money to restore it themselves. The paint was donated and the artists created this charming graffiti in two days. Play our discovery game across Lisbon's Historic Neighbourhoods or go on a shorter adventure in Alfama & Baixa.
Neighbourhood: Mouraria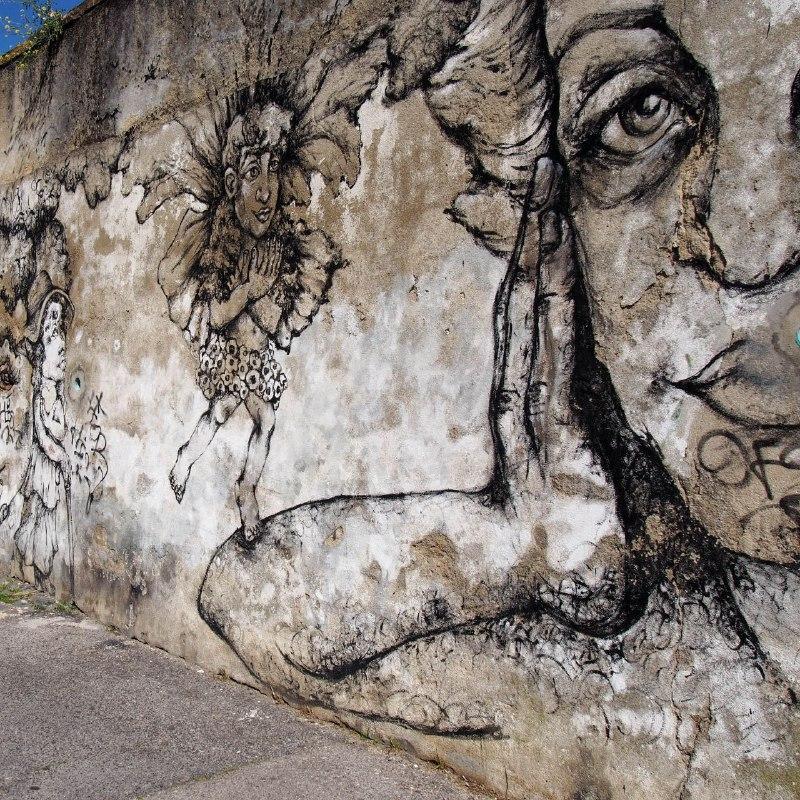 3. Mariana Dias Coutinho
On Travessa do Monte, nearby Miradouro Nossa Senhora de Monte and Miradouro da Graça you can find an illustration of Natalia Correia and Florbela Espanca created by Mariana Dias Coutinho. This mural is a part of Passeio Literário da Graça that was created by EBANOCollective to pay tribute to Portuguese writers who lived in the area and to give visibility to the hidden architectural heritage of the neighbourhood.
Neighbourhood: Graça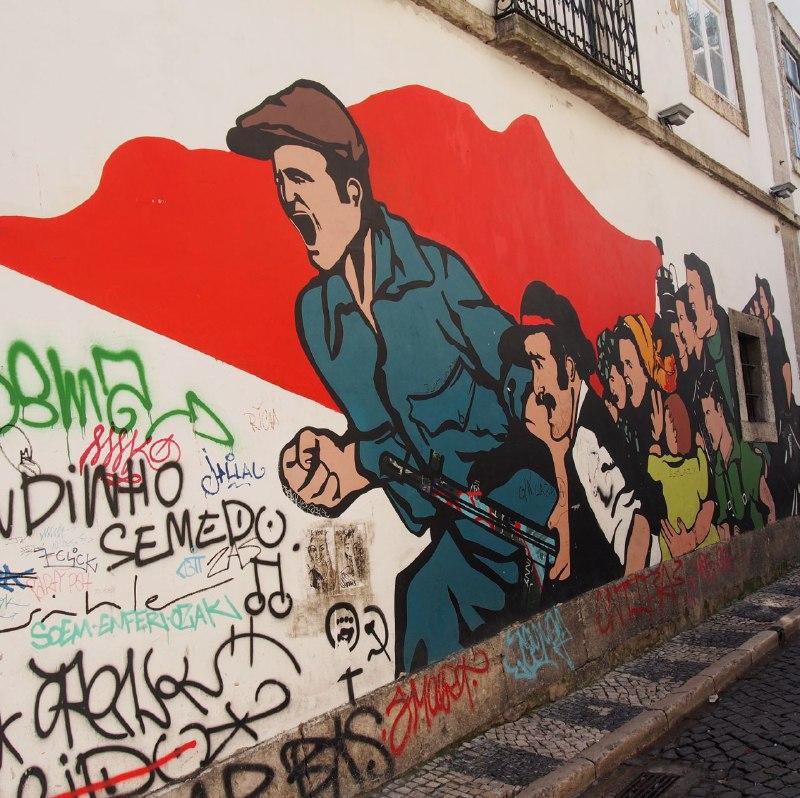 5. Lisa by Tami
On a building on Calcadinha da Figueira, you can find 'Lisa', by Brasilian artist Tami Hopf. This piece was created during Paratissima, a contemporary art festival in 2016. Most of her work is a combination of "joy and sorrow, euphoria and loneliness".
Neighbourhood: Alfama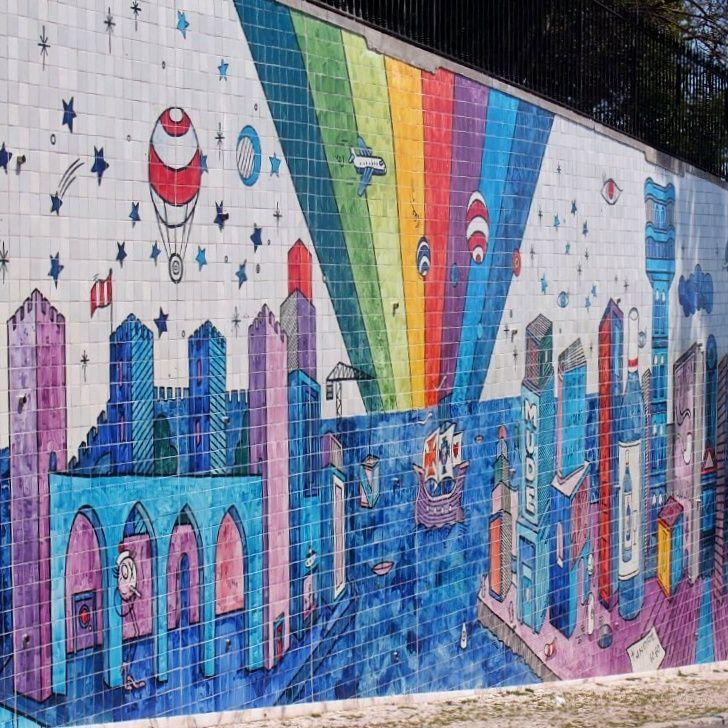 6. André Saraiva
André Saraiva is the creator of this magnificent piece. He created a world where two cities meet, Lisbon and Paris. The illustration is made with over 52 thousand ceramic tiles and it almost 188 metres long. It is located on Campo Santa Clara, just below Jardim Botto Machado.
Neighbourhood: Santa Clara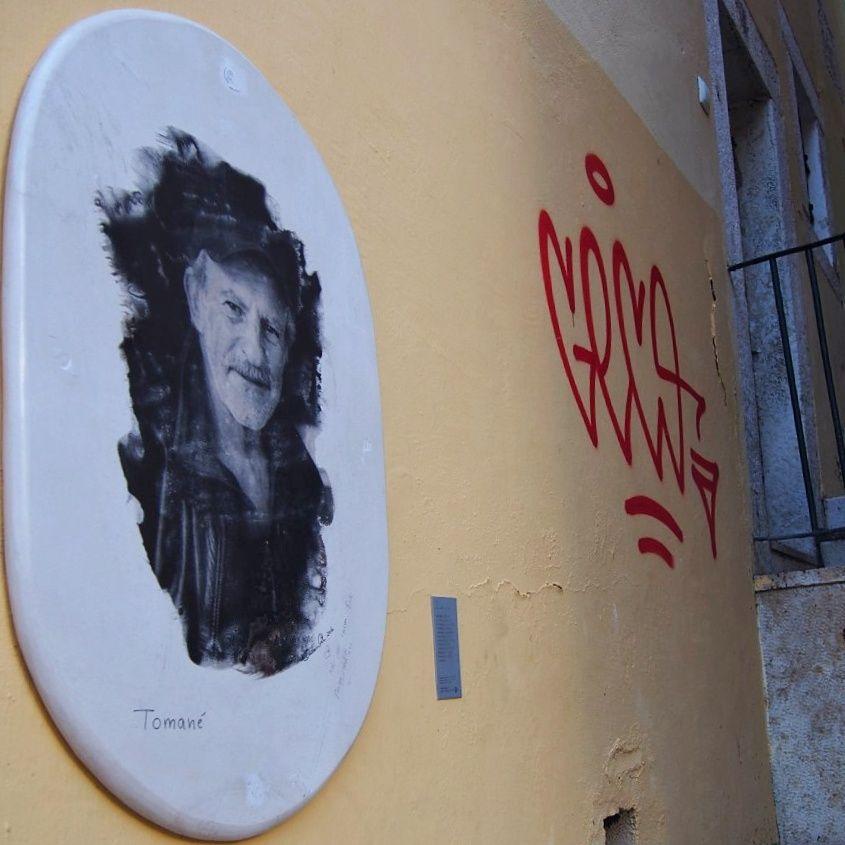 7. Alma de Alfama
Alma de Alfama or 'The Soul of Alfama' is a tribute for the elderly residents of Alfama district, it contains a series of portraits that are printed on the walls. Some of them are still alive and you can see them while exploring the maze of Alfama. The outdoor exhibition was created by English artist Camilla Watson with a collaboration with Borough of Santa Maria Maior.
Neighbourhood: Alfama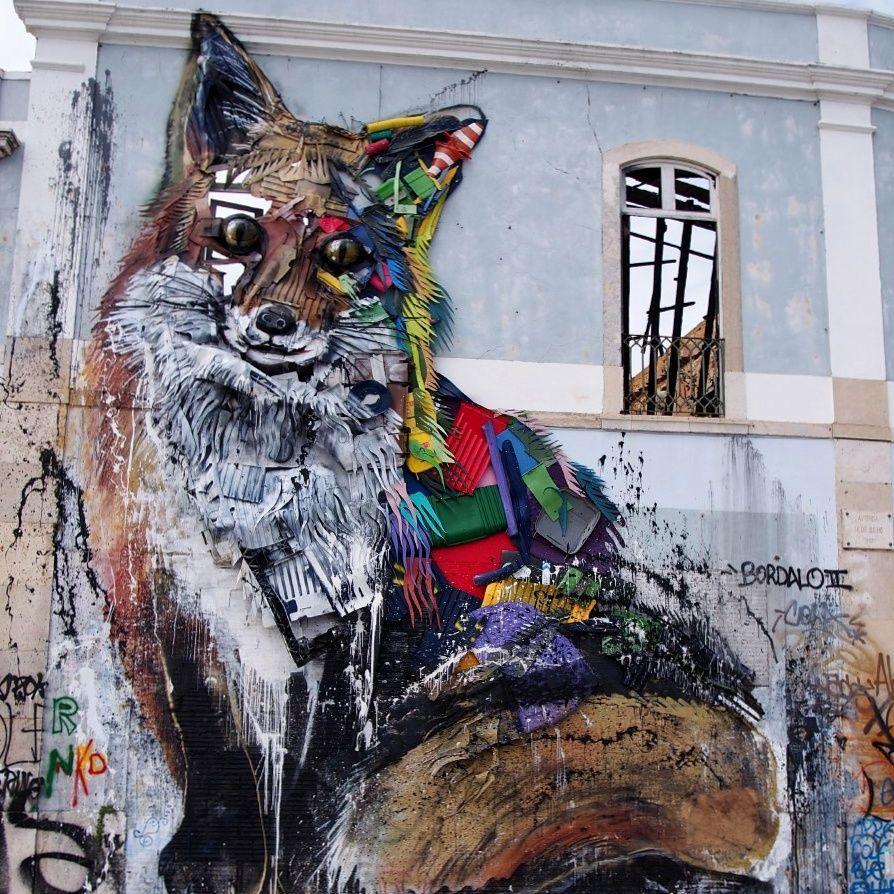 8. Trash Animals
On Avenida 24 de Julho you can find a fox that is a combination of sculpture and painting. One's trash is Bordalo II's treasure. The fox is a part of series called Trash Animals that speak out about the problem of waste production, not reused materials, pollution and the emerging effects on the planet. He mostly uses materials found from wastelands and abandoned factories.
Check out this wonderful mural on the way to Cais do Sodre station, then hop on a train to Belem and play our tales of discoveries trail. 
Neighbourhood: Cais do Sodre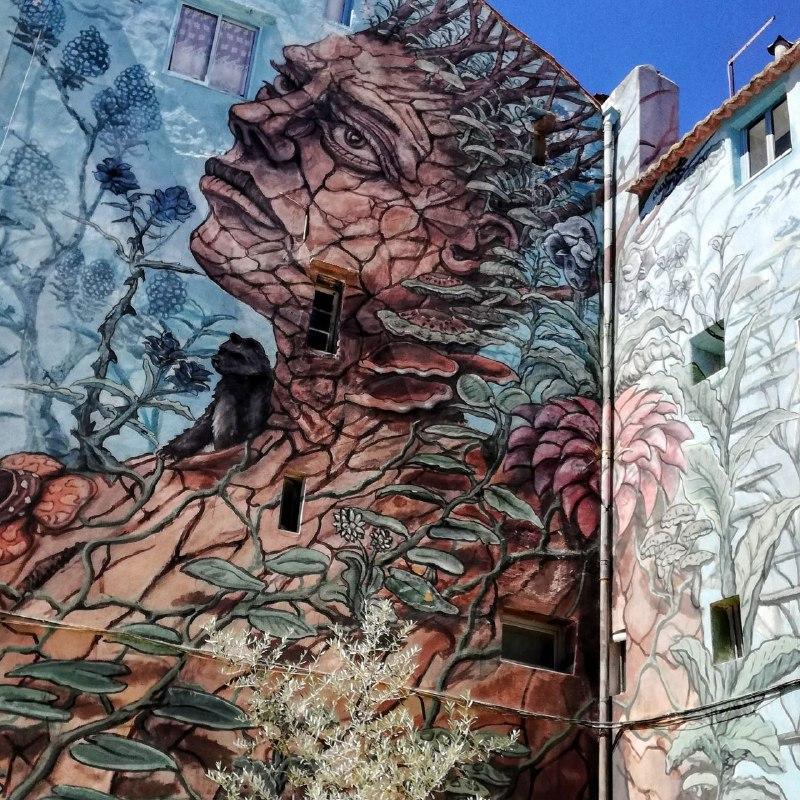 9. Violant
This beautiful mural on Rua do Saco is made by Violant. On this piece great titan Gaia, who is a life generator and defender and always rebelling against those who are in charge. However, she is looking sad because of how people are treating the earth.
Neighbourhood: Arroios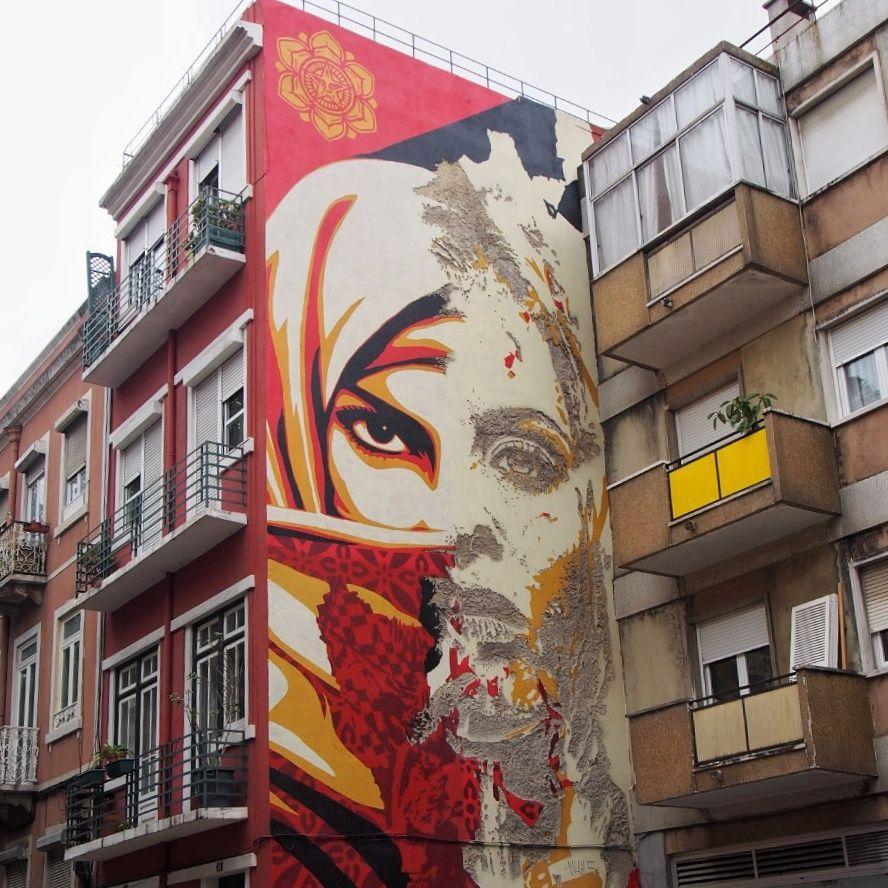 10. Shepard Fairey & Vhils
This impressive piece is located on Rua Senhora da Glória. It is made in a collaboration between two street artists. Shepard Fairey painted one half of the woman's face and Vhils carved the other half.
Neighbourhood: Graça
Unlock hidden blog content and a secret discount!