Here's some more off the beaten path recommendations from our travelling content creator Filipa. This time, she explored Bratislava and played our city discovery games to navigate through the local hidden treasures.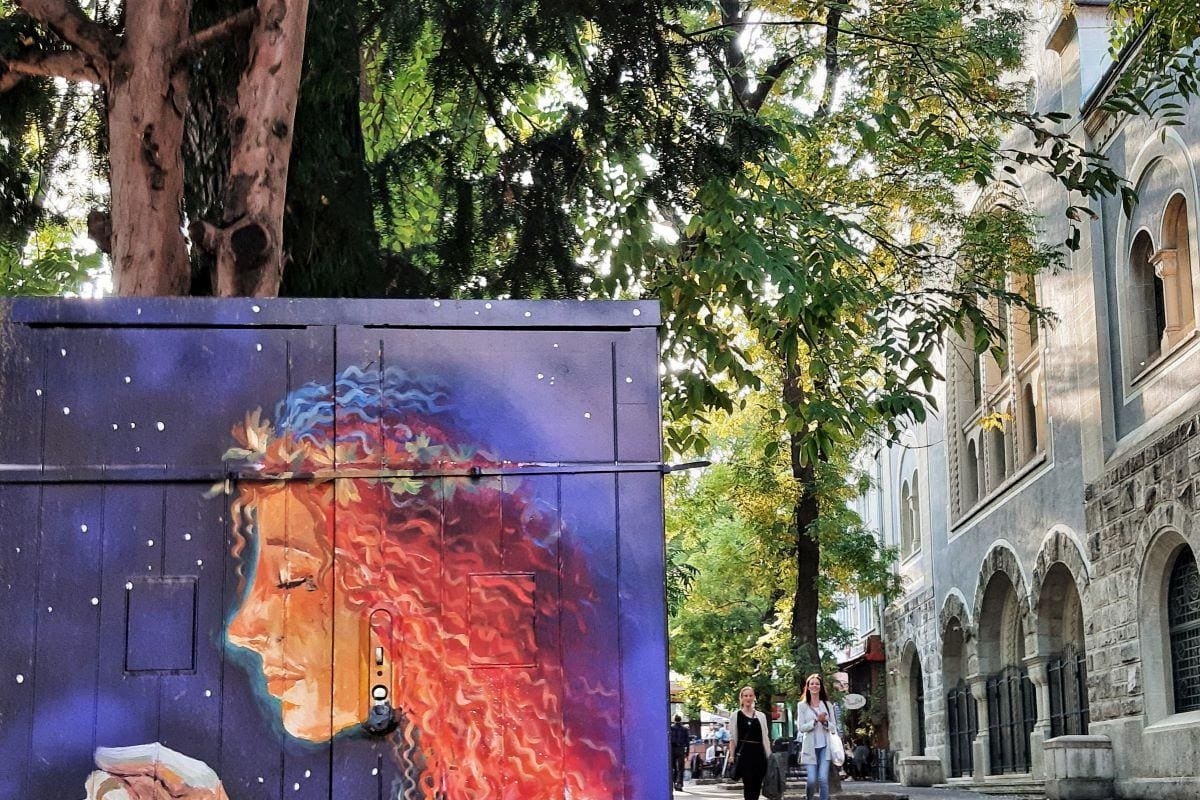 Bratislava was one of the final destinations of my European journey with Secret City Trails and one of those that surprised me the most! I didn't know what to expect from the city ahead of my visit, and I loved besides charming historical delights, it had so many alternative and hipster spots. I was exploring the city through the Secret City Trails games and beyond, and I'd love to share some lesser-known places and spots that tour guides won't tell you about.
Top 8 non-touristy highlights of Bratislava: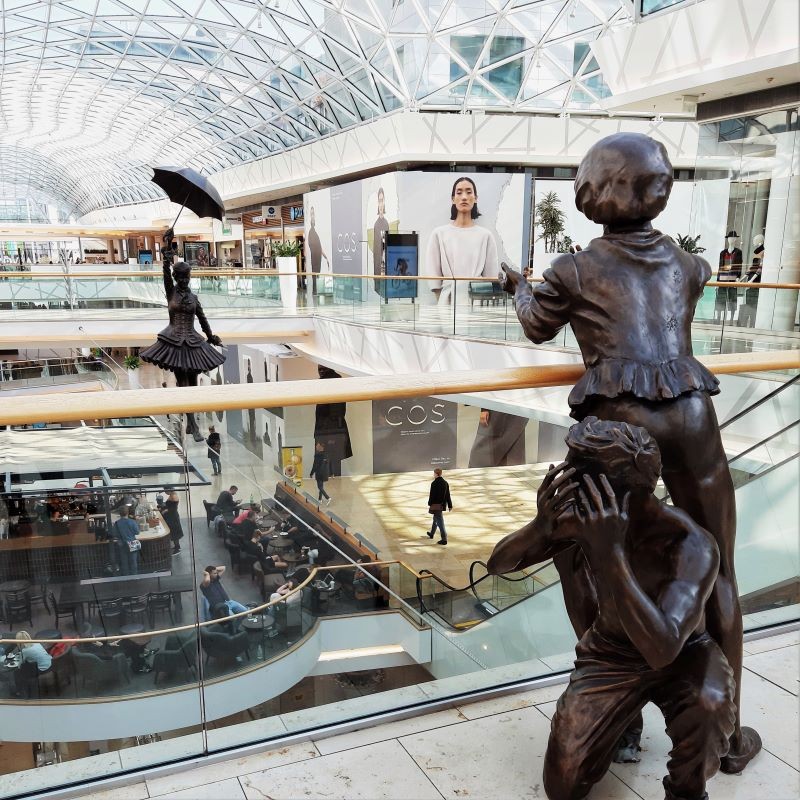 Spot a "circus" in a mall
Not a place you'd instantly think is worth exploring, but inside and outside Eurovea shopping mall you can find several detailed bronze statues. I was having fun trying to spot all those playful figures. I discovered that they are Colin Spofforth's creations and each statue at EUROVEA has a name and personality, inspired by fictional characters in Spofforth's wife's story. In the picture you can see the ambitious and brave Isabelle, walking in the tightrope, and her twin brothers, both talented acrobats.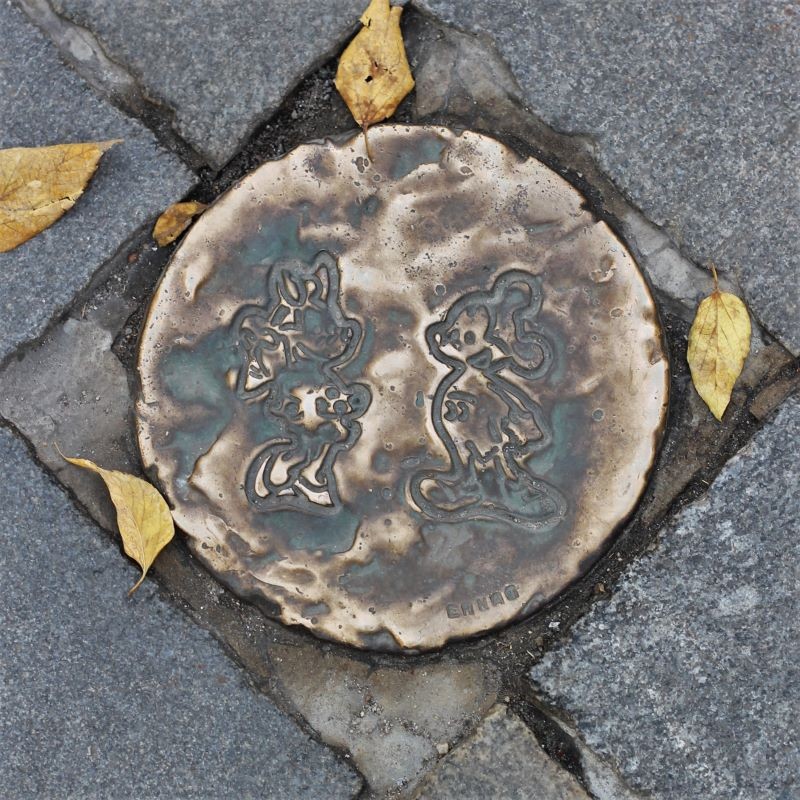 Find Disney's most famous mouse in the middle of the street
I came across this bronze plate of Mickey and Minnie Mouse around the main Old Town Square of the city. I couldn't find information about the origin of this plate, but some people who found it too, said that it must be just another "hidden Mickey", like the ones you might find appearing for seconds in several Disney productions. I like to think that you can find even more Mickeys around the city.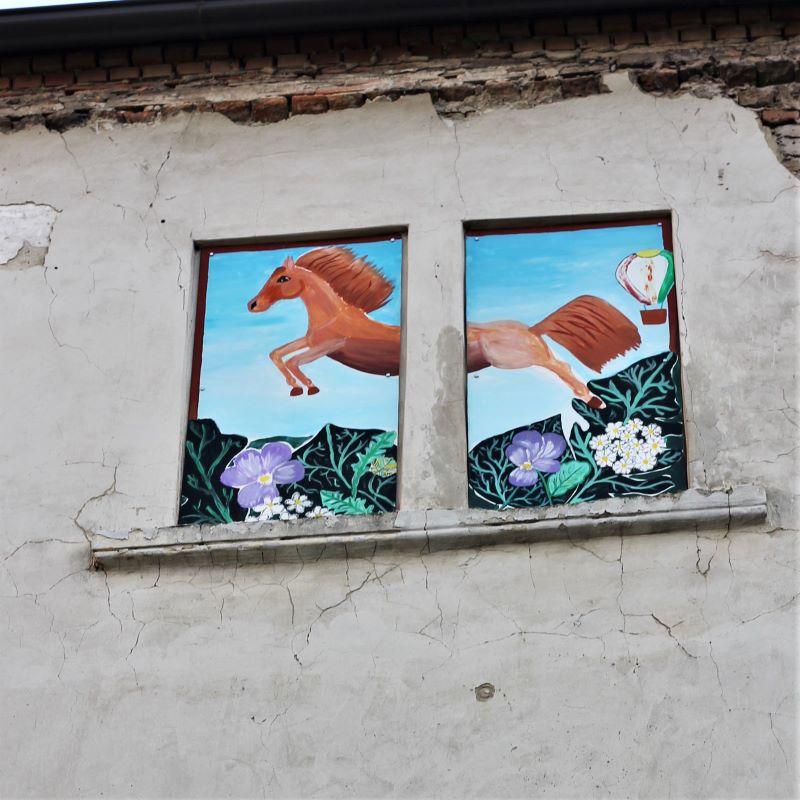 Spot a jumping horse in a window
There's an abandoned building in the Old Town that has its windows painted by modern artists. The paintings represent different scenes and are worth analysing closely! I found it while playing a city discovery game in Bratislava and it was one of my favourite things from that riddle route! It could be easily missed even though it is well situated, but now that you know about it it, make sure you stop at take a look 😊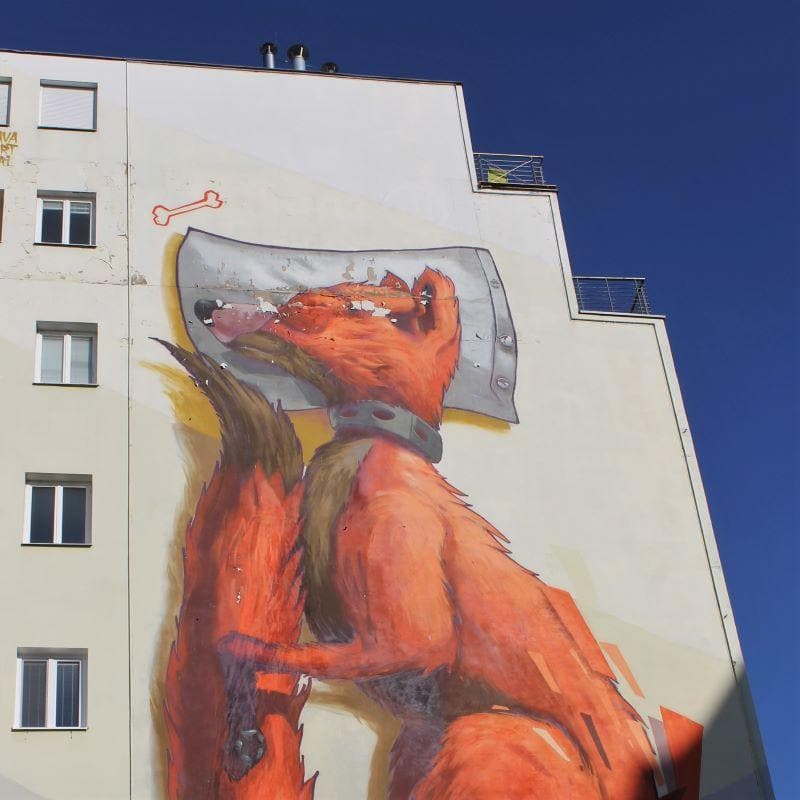 Find a giant sleeping fox
Following the riddle route, I found this giant fox at the Stone Square. This wall mural was painted by the Hungarian street artist Fat Heat. If you like street art, you'll enjoy seeing it in person!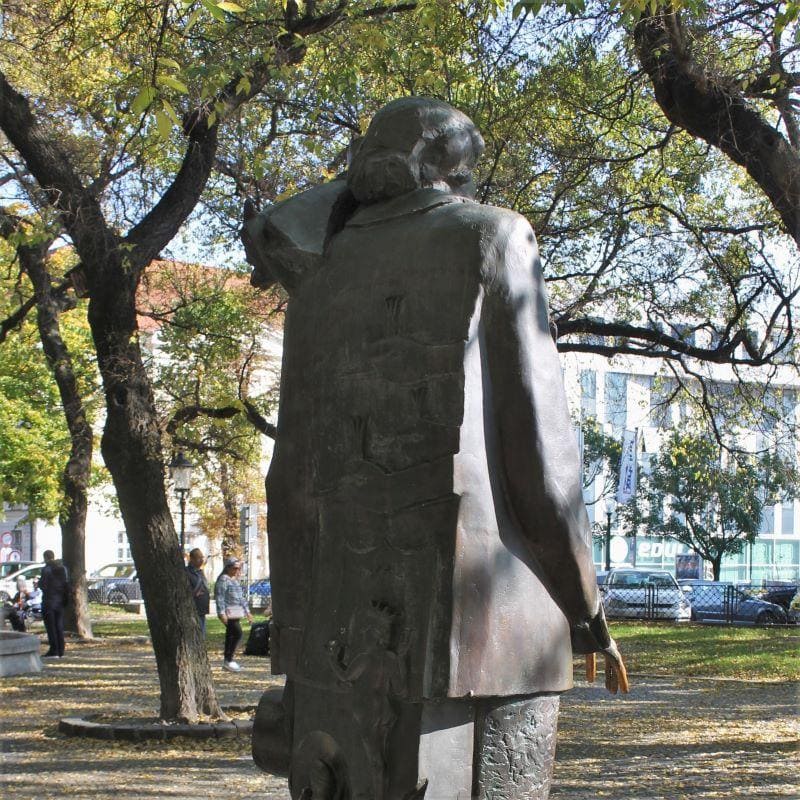 Say hello to Hans Christian Andersen
I have always been a huge fan of Hans Christian Andersen so I found it really curious to find a statue of him in Bratislava! It is a beautiful detailed piece of art, adorned with some characters from his stories. It was a tribute to the famous storyteller, even though he just passed by the city and he's not really connected with it, according to the history. It was erected to mark the 200th anniversary of his birth, in 2006.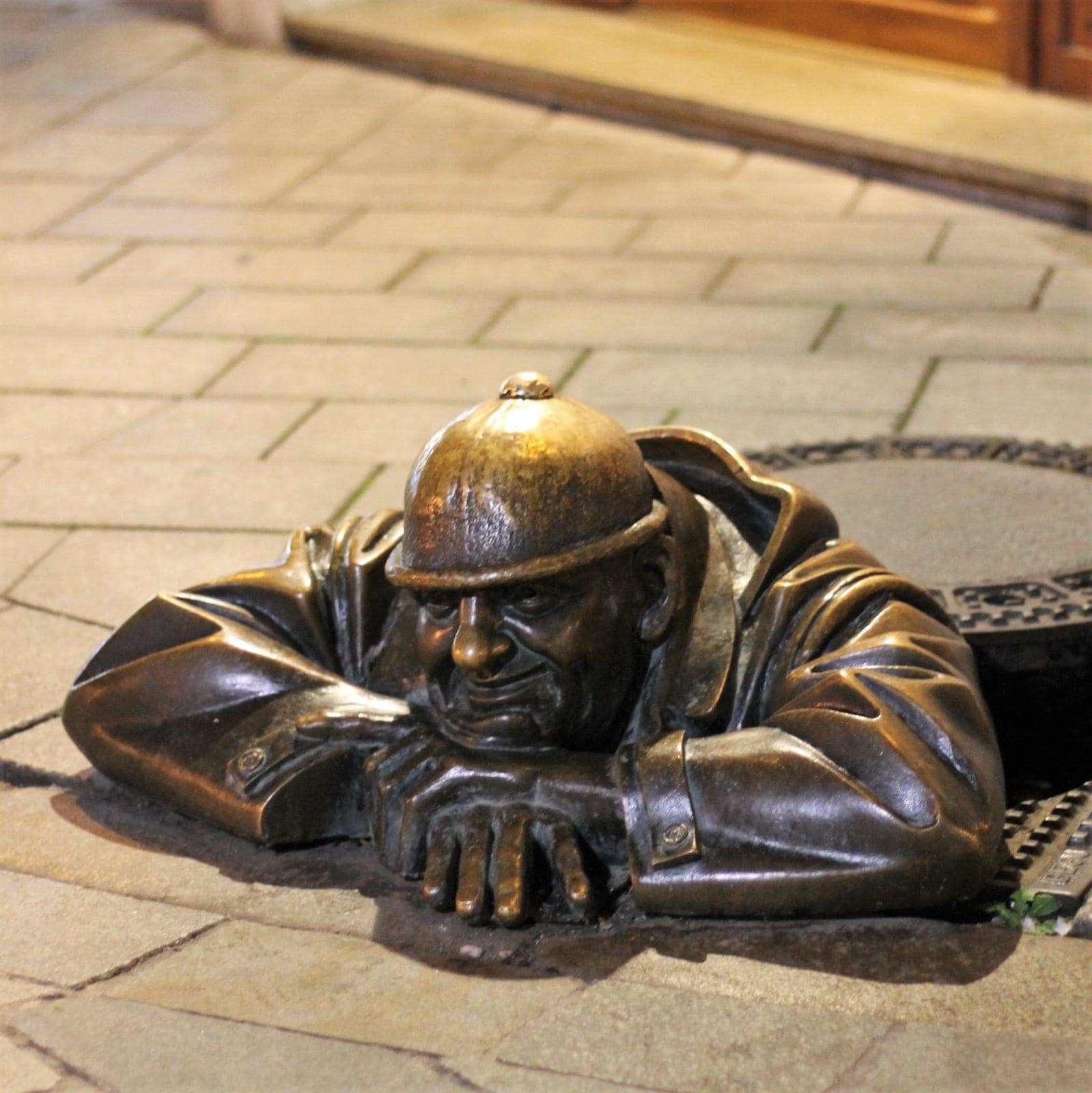 Meet the bronze man that never stops working
It was fun to meet the smiley Čumil – actually, I almost kicked him by accident when I was trying to solve a riddle from the Secret City Trails game I was playing on my phone. This quirky statue, usually called "Man At Work", won't easily slip your memory, if not for this man himself, for the curious warning sign above his head, saying "watch out for creeps underneath"; you can imagine that, since Čumil is hidden in the floor, he is often being hit by both people and vehicles. This creative installation dates back to 1997, and even though it is becoming a tourist attraction, not many people know the history behind this creation. There are some controversial thoughts and sayings about his name and origin; some say it represents the typical communist-era working style (watching more than working); I think we will never know the truth…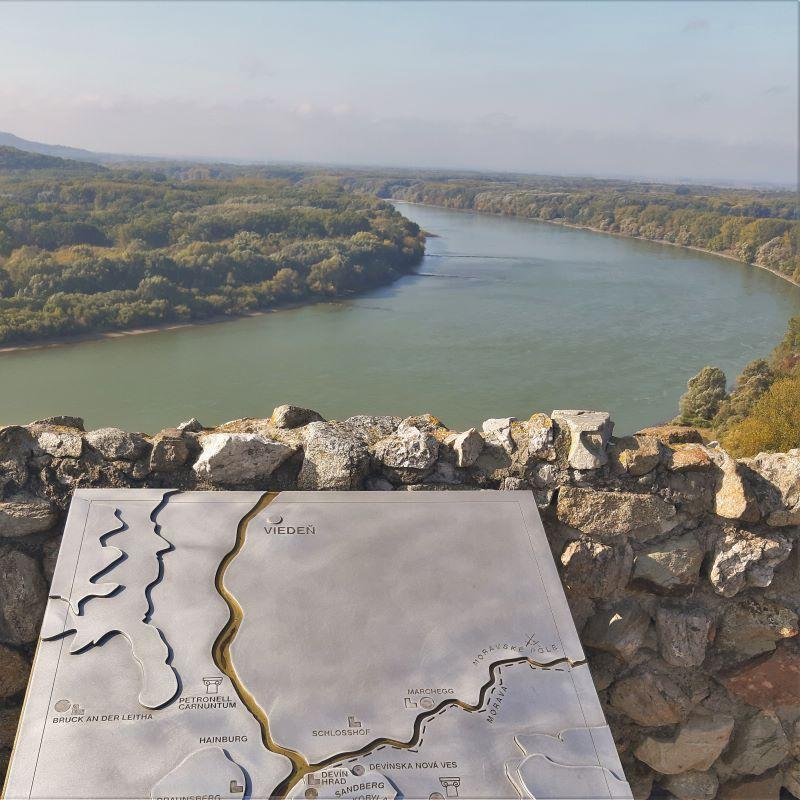 Get mesmerised with the old Devin views
If you want to expand your visit to Bratislava, make sure to visit Devin Castle. It is undoubtedly less touristy compared to the well known Bratislava's Castle and it's only 30 min by bus to the city center so it had to be my off-the-plan experience while I was in the city! The travel is fast and inexpensive, as well as the entry to the castle. You would find it impressive to see how it was built into the mountain and it's still partially standing! Also, the castle offers a mesmerizing view of the Danube river and surroundings, which makes the trip even more beautiful.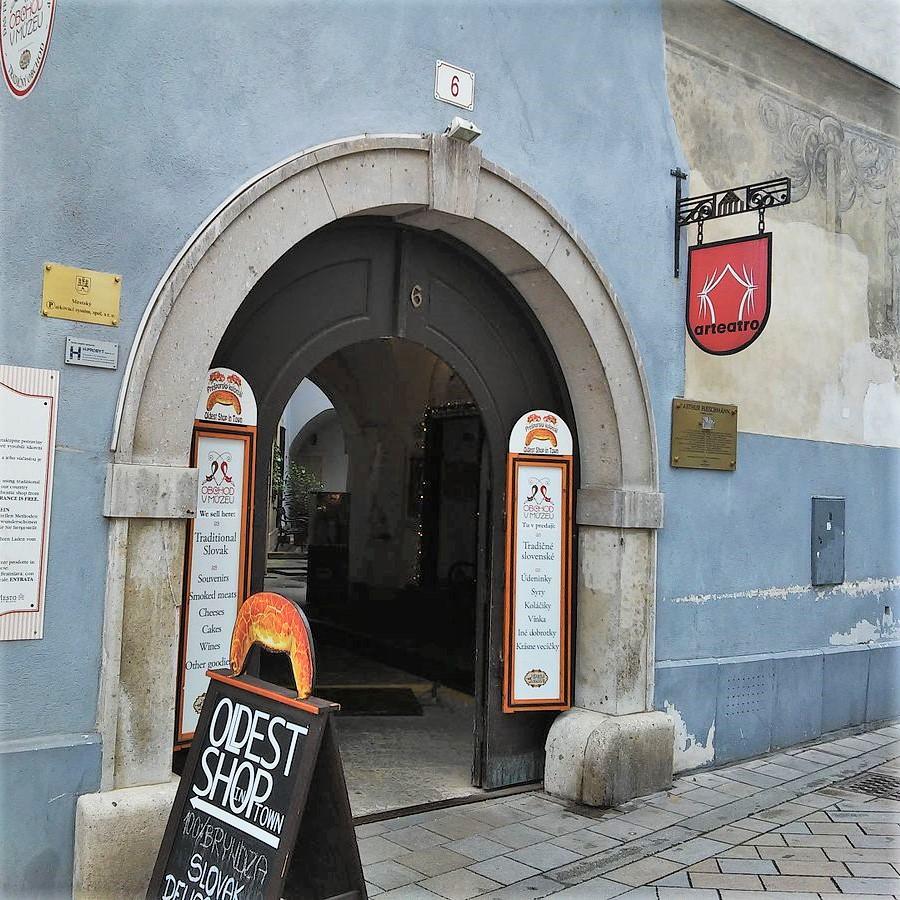 Spot the details of the oldest shop in Bratislava
This vintage shop is called Obchod v Muzeu and sells traditional Slovak handicraft products and foods from small local producers furnished; I loved finding out that some of the postcards they sell were painted by the owner of the shop and just had to bring some with me to Portugal! Inside the shop you can also find a small exposition of Museum of Trade, which includes vintage cash registers (that I personally loved!), a collection of historical advertisements from the 20th century, and more! You would find it a very special place.
Ready for an adventure in Bratislava?