From Lisbon with Love…
Spring has sprung and love is in the air! Whether you're planning a romantic city trip to Lisbon or you live here and are looking for original date ideas in the city, we have 7 tips! Along the way, you might not only fall in love with each other… we're pretty sure you'll fall in love with this beautiful city too.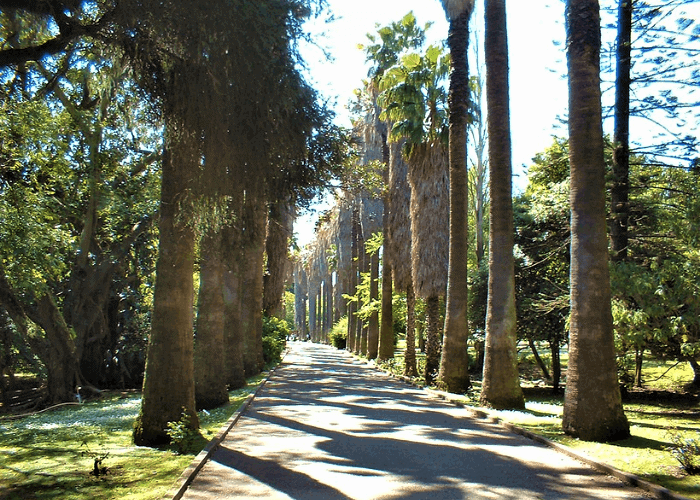 Visit the moon in beautiful Belém
Yes, the area around the Discovery Monument and Tower of Belém are a tad touristy, but Belem has much more to offer. And it turns out that it's other parts are great for dates, so here they are! Start by strolling hand-in-hand alongside the Tagus River. Or jump on a bike to do the same (well, the hand-in-hand bit may be tricky). Make sure to check out the incredible architecture at the Champalimaud research centre. It's a pretty magical place.
Alternatively, go on a romantic walk through the Tropical Botanical Garden. It's gorgeous and has many hidden corners and a labyrinth! You can also visit the Centro Cultural Belem (CCB) for your daily dose of art and get lost in its gardens. Or why don't you take your date to the moon by visiting the Planetarium Calouste Gulbenkian! Does it get any more romantic than that?
Looking for a sweet spot to watch the sunset and woo your other half? We suggest MAAT. You can chill near the riverside or go up to its roof for the best view. And if you're still in Belém in time for dinner, Este Oeste is always a good choice.
Want to learn more about Belém and discover most of the places mentioned above without having to pull out your maps? Play our Belem discovery game.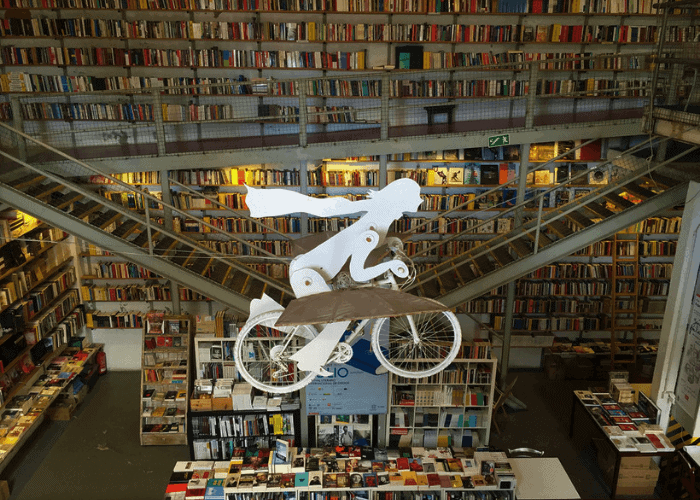 Enjoy a bookstore and eat the best chocolate cake at the quirky LX Factory
And old industrial district turned into hipster paradise. Although not obvious, it can also be a great spot for dates. Stroll around and enjoy the amazing street art or check out the alternative stores. The most romantic shop to see together? A bookstore! Ler Devagar was chosen as one of the most beautiful bookstores in the world by the NY Times. So besides exploring the curiosities of this store, you can of course get a new book and spend a slow afternoon enjoying each other's company and that of a good book. The bookstore is also very instagrammable.  
You can also find the world's best chocolate cake at Landeau, perfect to split between the two of you. Romantic? Tick! If you're more in the mood for cocktails, stop by Rio Maravilha. Enjoy a great view of the river against the backdrop of the well-known sculpture… Feeling hungry? For Portuguese food, check out Cantina. If you prefer something more 'spicy' go for a restaurant with a wrestling ring in the middle of the room, head to Mez Cais.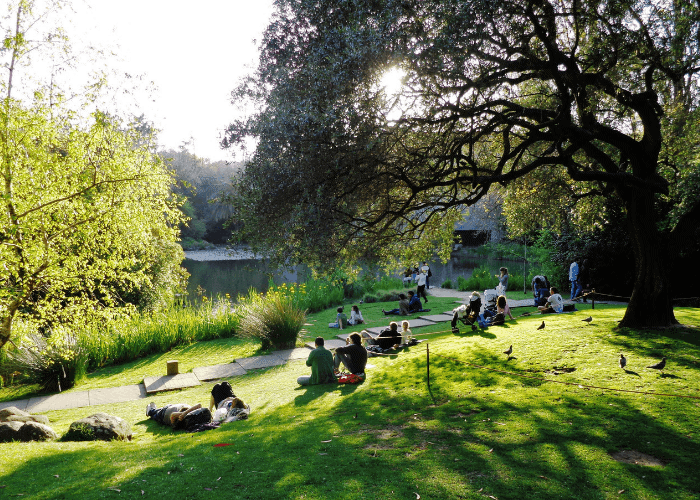 See art at the gorgeous Gulbenkian Gardens
We have so much beauty thanks to Calouste Gulbenkian! One of the most beautiful places in Lisbon is the Gulbenkian Foundation in São Sebastião. It often hosts concerts (usually jazz), has fantastic libraries and a museum of contemporary art. The best feature is its gardens! You can walk around here for hours, sit and enjoy the weather, or explore the hidden nooks that are perfect for romance.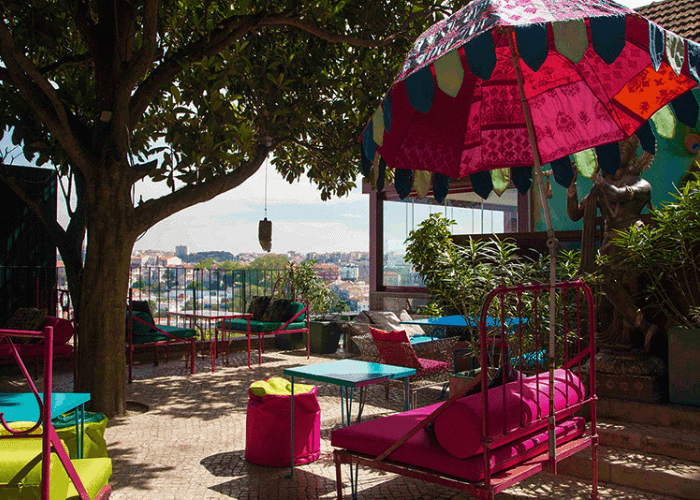 (Get) Lost In (Príncipe Real)
Maybe you've heard, maybe you haven't. It is said that Lisbon has a unique light – which makes for amazing sunsets. And is there anything more romantic than watching the perfect sunset over drinks with your date? Probably not. This is why you should stop by Lost In. It is known for its outdoor seating area with cosy sofas and a gorgeous view over the city. So grab a sofa, choose your drink and settle in to watch the sunset. Pro tip: go there on a Thursday when there is live jazz music. This is a great starting point (or finishing point) for your romantic day.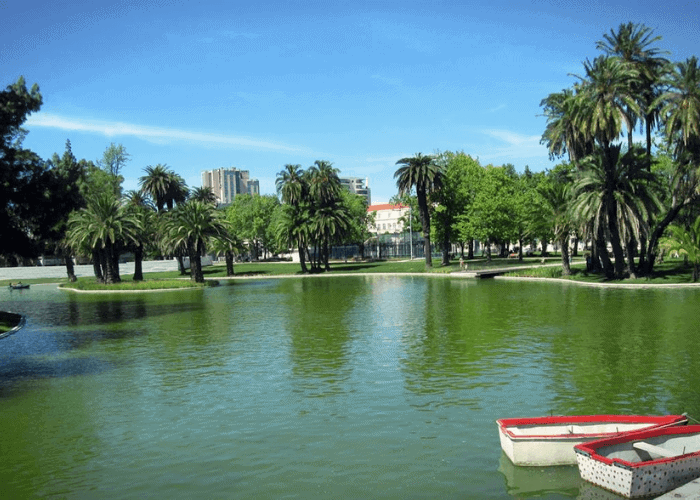 Enjoy a boat ride in Campo Grande
Campo Grande has a beautiful garden right in the middle of city chaos. Located near business districts and university campuses, it is a lesser known gem to tourists (and thus more quiet!). It is a great spot for you to relax with your other half. The main attraction is the garden's lake, where you can rent a boat. Row your love around the lake!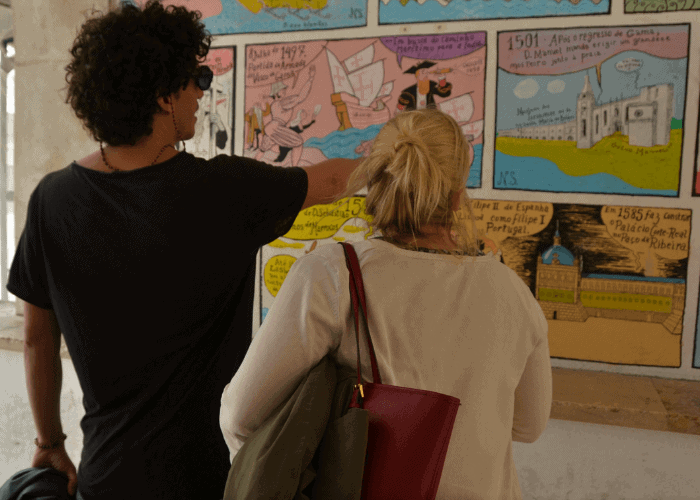 Play a game together!
Literally. Try something different and unexpected. When solving a trail of riddles you'll discover the city's undiscovered views and foodie spots. And you don't only learn about the city, you'll learn more about each other too. As Plato famously said, "you can learn more about a person in an hour of play than an entire year of conversation".  Try any of our urban adventures in Lisbon for some of the city's best kept secrets. We're here to help you impress your date.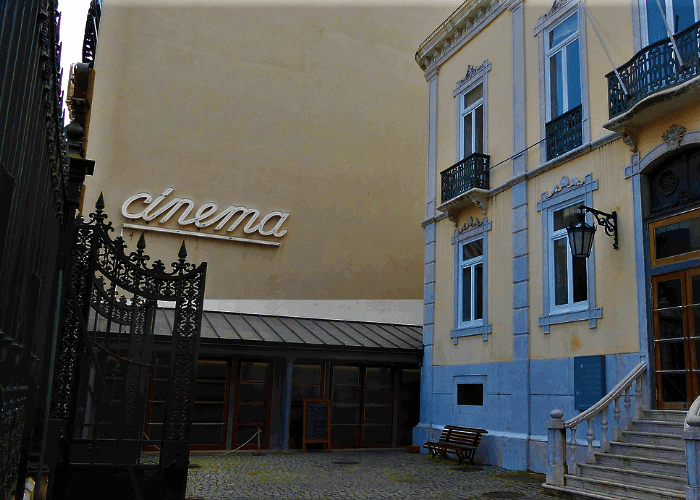 Go on a movie date! "we will always have Lisbon"
We're going old school with a movie date and double old school with Cinemateca Portuguesa (near Avenida da Liberdade). This charming venue shows classic films. Watch a golden age movie projected (analog) in a cosy cinema room, just like the old days. Cinemateca has a monthly programme, so it's a matter of choosing the perfect movie. If you're craving a bite afterwards, there are a number of restaurants nearby. You can hop by Guilty by Olivier, Sushi Café Avenida, or Sushi dos Sá Morais. Or the more budget friendly options: The Great American Disaster in Marquês or ZeroZero in Príncipe Real.
Written by locals Mafalda Monteiro and Inês Almeida.
Unlock hidden blog content and a secret discount!