An ancient city with a mysterious history, Venice is packed with secrets waiting to be uncovered. Here are 7 hidden gems that you can only find off the beaten path, and for more try one of our Venice discovery games!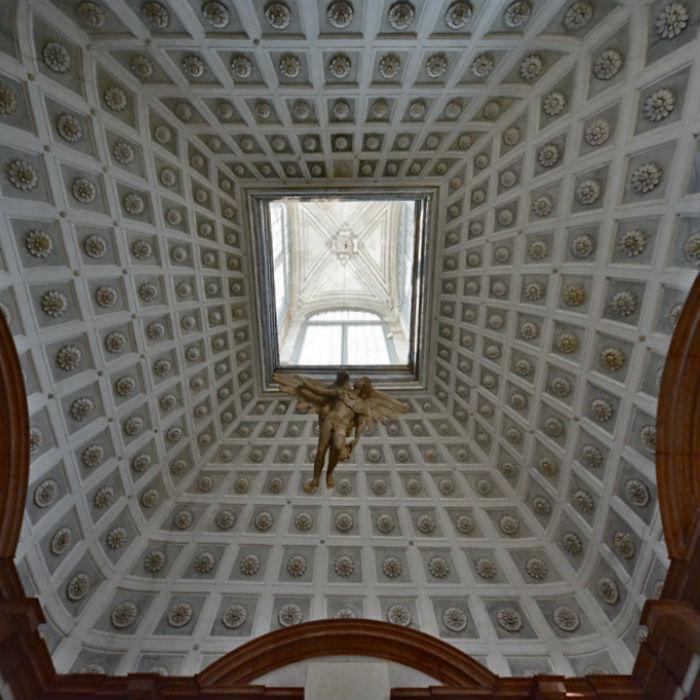 1. Look up in Palazzo Grimani
Venice is well known for its art and culture, but you'll have to venture off the beaten track to find our first hidden gem. The Palazzo Grimani is located only a short walk from St. Mark's Square, however it is relatively unknown to tourists. The museum houses the archaeological collection of Giovanni Grimani, displayed tastefully amongst exquisitely decorated ceilings and walls. Grimani was a Venetian bishop and patriarch, as well as a keen collector of artefacts. He is credited for his contribution to Venice's cultural development, so his collection must be worth a visit!
Tip: When you reach the Tribuna room, don't forget to look up!
For more local tips and secrets, try out our Castello trail.
Neighbourhood: Castello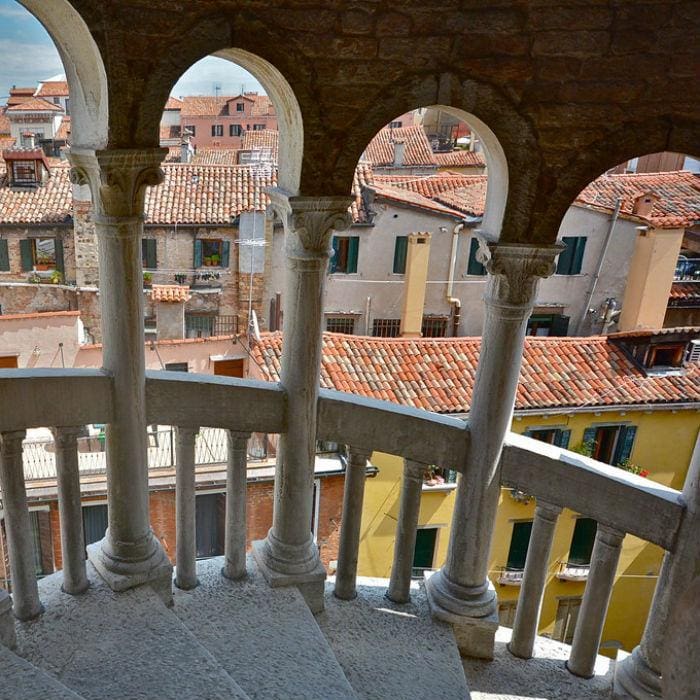 2. Run up the Scala Contarini del Bovolo
For speakers of Italian, Scala Contarini del Bovolo might seem like an odd combination of words! 'Bovolo', translating to 'snail' in English, refers to the winding shape of the 'Scala' (staircase). Spiralling up the side of a historic Palazzo, the staircase is a beautiful mix of Venetian, Renaissance and Gothic architecture. If you choose to climb up the 80 steps to the top, you'll be rewarded with sprawling views of the city below.
Neighbourhood: San Marco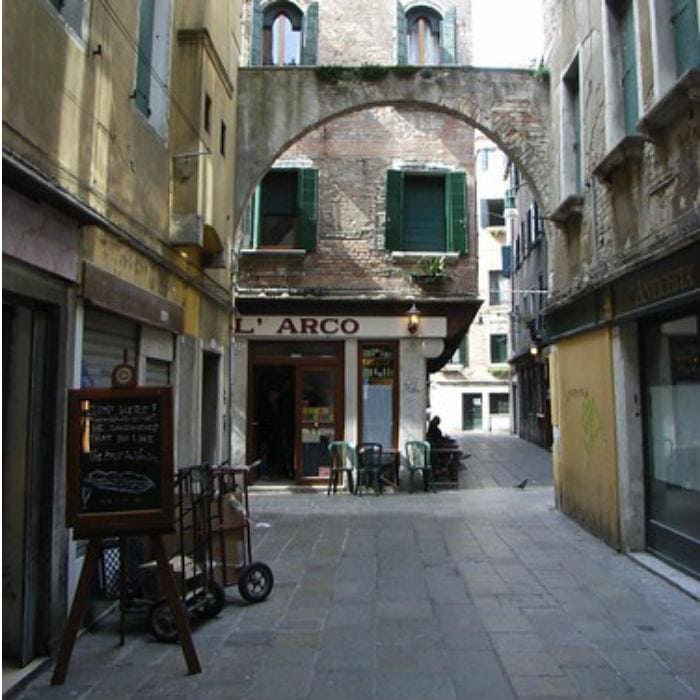 3. Dine like a local at All'Arco
For an authentic Venetian dining experience, look no further than All'Arco. This little 'bacaro' (think: Venetian wine bar) is open all day, but is best sampled for an evening aperitif. Locals frequent the bar to relax, socialise and whet their appetite before dinner. Feel the energy of the city as you enjoy refreshing Italian wines and delicious 'cicchetti' (small plates made to share). With food and drink served by father and son team, Francesco and Matteo, All'Arco is a staple of the Bacaro culture in the city. Play our game in the neighbourhood to unlock more local recommendations for best places to eat.
Neighbourhood: San Marco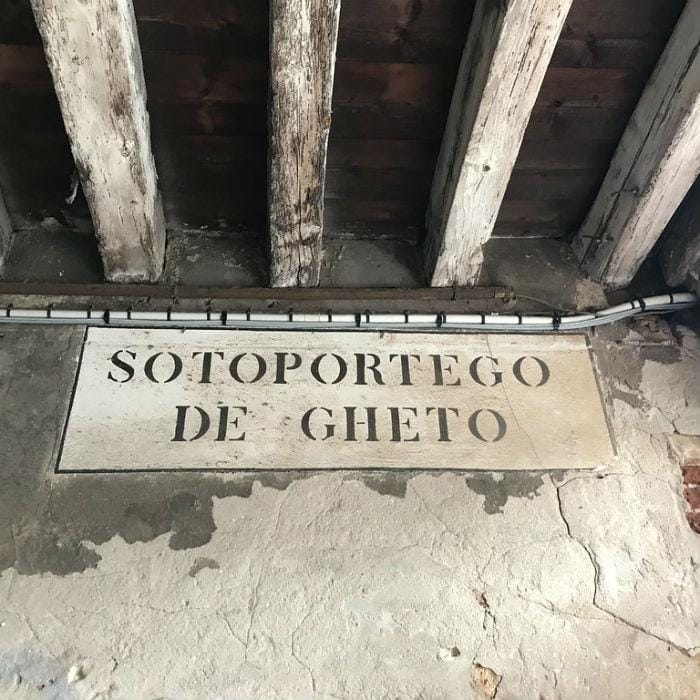 4. Explore The Venetian Ghetto through a city discovery game
Did you know the English word 'ghetto' originates from the Venetian word 'geto'? This neighbourhood was actually the first ever ghetto built in Europe back in 1516, when the Jewish population in the city were exiled onto a small island in Cannaregio. Though the district has a dark history, it is now vibrant with Jewish culture. You can visit museums, galleries, synagogues and kosher restaurants, all centred around the stories, religion and community of the area. But that's not all it has to offer, round every corner and down every alley is a secret waiting to be uncovered. To discover more hidden gems in this historic neighbourhood, play our Cannaregio trail!
Neighbourhood: Cannaregio
5. Slow down on The Island of Burano
Located in the Northern part of Venice's lagoon, the island of Burano is a treat for the eyes and the Instagram feed! Reachable via a short water taxi ride, it's a refreshing (and easy!) day trip from Venice. You can enjoy a slower pace of life, fewer crowds and unrivalled views of the picture-perfect colourful houses. When it comes to mealtimes, fish is the most famous kind of cuisine on Burano, with Al Gatto Nero and Ai Pescatori offering wonderful seafood dishes.

Trivia: local legend says that the island's houses were painted bright colours so that it was easier for fishermen to see them and return home on foggy days!
Neighbourhood: Burano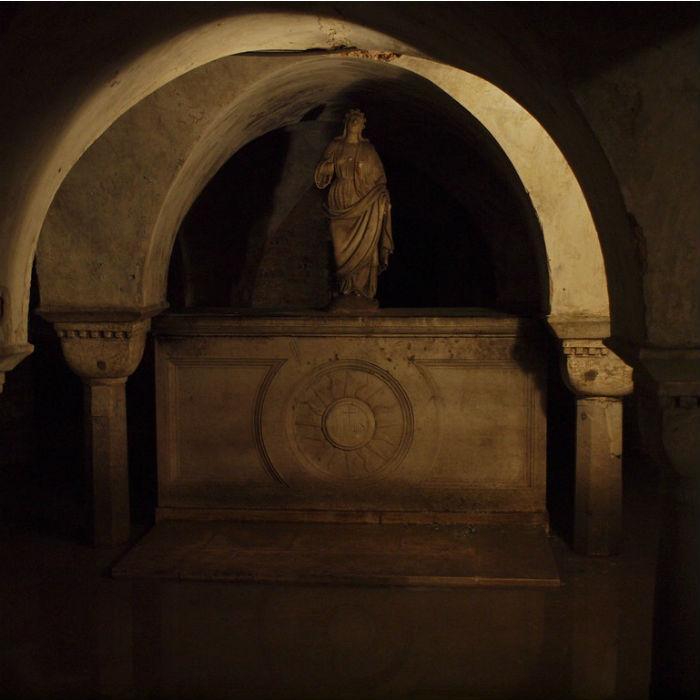 6. Discover mysteries of The Flooded Crypt of San Zaccaria
Chiesa di San Zaccaria (Church of San Zaccaria) offers a beautiful facade that is heavily inspired by Venetian renaissance architecture. Taking nearly 70 years to complete, it's no wonder that the interior is equally as impressive! The landmark has long been welcoming of tourists, however there is a hidden gem lurking beneath its grounds that is lesser known to visitors. For €1.50 you can delve below the church and explore the eerie half-flooded crypt underneath. Visitors are encouraged to wade into the waters and see the tombs up close…if they're feeling brave enough, that is.
Neighbourhood: San Marco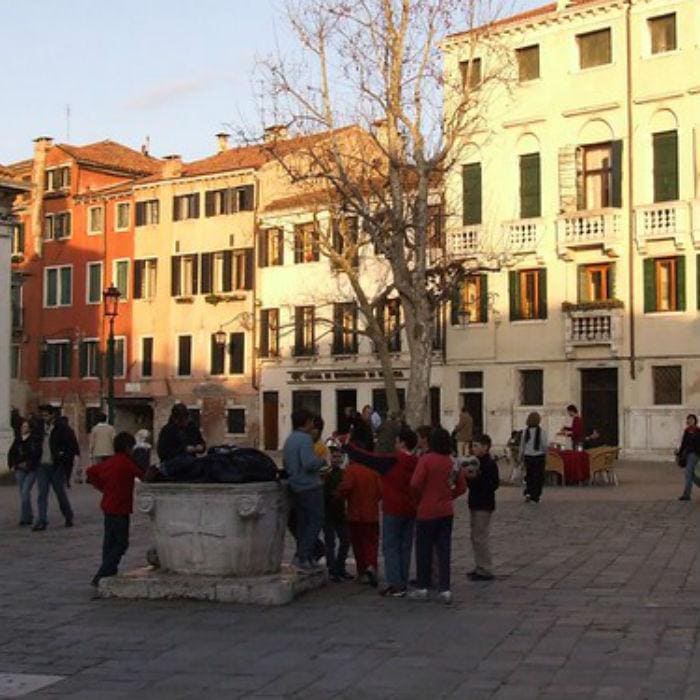 7. Escape the crowds in Campo Santa Margherita
Campo Santa Margherita is a quiet spot hidden away in the Dorsoduro neighbourhood. Locals come here to escape the crowds of San Polo and San Marco. During the day the square is home to a lively and friendly flea market selling fresh produce and small trinkets. It comes to life at night, transforming into an equally as lively and friendly hangout for Venice's student population. The piazza offers a buzzing atmosphere as a diverse, bohemian crowd hop between bars, sip on cheap Spritz and enjoy the low-level ambience of a warm Venetian night. 
Neighbourhood: Dorsoduro
See our discovery games in Venice
Unlock more hidden gems and local stories
Ready to unlock more hidden gems?